Isa's visa and India in a China shop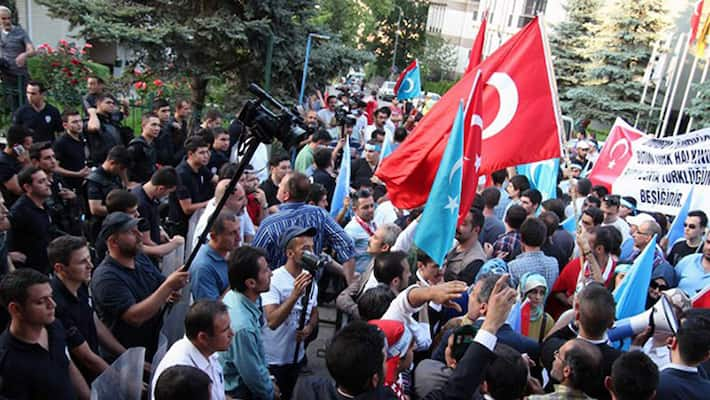 This column was going to applaud Prime Minister Narendra Modi and his National Security Advisor Ajit Doval for going on offence against China in granting an e-visa to Germany-based Uyghur separatist Dolkun Isa, so that he could attend a conference this week in Dharamsala. An annoyed China called Isa a terrorist and alluded to Interpol's "Red Corner" notice against him.
China wanted Isa arrested, not at a gathering of dissidents. The Isa visa was seen as retaliation for China's veto at the United Nations last month of India's proposal to declare Masood Azhar an international terrorist. Azhar heads the Pakistan-based Jaish-e-Mohd; in 1999 he was exchanged by India for the hostages of hijacked flight IC814 from Kathmandu, and India has evidence that his group conducted the New Year's terrorist attack on India's Air Force base in Pathankot. Isa's visa made Indians ecstatic. On twitter, #ModiSlapsChina was a trending topic.
By Monday morning it changed to #ModiBowsToChina. It turned out that on Saturday, Isa's visa (and that of a US-based Uyghur) was cancelled. The Home Ministry gave bewildered reporters two different explanations: one, the e-visa was cancelled because of Interpol's notice, which had escaped India's attention while granting the e-visa (which in any case is an automatic approval); and two, it was cancelled because Isa had applied for a tourist visa, not a "conference visa".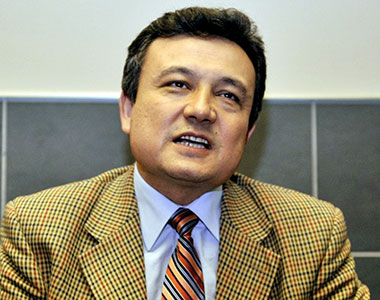 Isa, who fled China in 1997 and denies being a terrorist, was disappointed. The only entry he's was earlier denied was South Korea in 2009, the year that violence flared in East Turkestan (which China calls Xinjiang Uyghur Autonomous Region). The pro-democracy conference he was to attend in India was organised by the US-based Citizen Power for China, headed by 1989 Tiananmen Square activist Yang Jianli; participants included other Uyghurs as well as Tibetans, Mongolians and Falun Gong members. The government indicated that the conference would now be cancelled, and that a closed-door meeting would instead take place.
Perhaps Beijing privately told New Delhi that the e-visa might affect President Pranab Mukherjee's first-ever visit to China next month. Perhaps India could not disregard the Interpol notice, given that gangster Abu Salem was extradited by Portugal to India in 2005 through Interpol procedures; the Interpol notice, however, never stopped Isa from visiting the US. Perhaps allowing an Uyghur separatist to attend a pro-democracy conference might provoke China into inviting Kashmiri separatists to its soil (though North Block maintains strict passport control on Kashmiris). Whatever it was, China applied pressure and India, with its delusions of grandeur, buckled.
Doubly frustrating is the fact that China has been of zero help in India's anti-terrorism efforts. Last June, Pakistan freed Zaki-ur-Rehman Lakhvi, a chief suspect in the 2008 Mumbai terrorist attack who is listed as a terrorist under UN Resolution 1267. India took Pakistan to the UN Sanctions Committee but China blocked India's move. Modi even called up China's President Xi Jinping about Lakhvi, but Xi was unmoved. In May 2015, China blocked India's move to put Pakistan-based Hizbul Mujahideen chief Syed Salahuddin on the UN sanctions list; China as usual cited "technical reasons". And in December 2014, India tried to move the UN against Hafeez Saeed, head of the Lashkar-e-Toiba, but was blocked.
Three dignitaries recently raised with China its Azhar-ban veto: Foreign Minister Sushma Swaraj with counterpart Wang Yi in Moscow on April 18; Defence Minister Manohar Parrikar with counterpart Gen Chang Wanquan in Beijing the same day; and Doval with counterpart Yang Jiechi in Beijing on April 20. The Chinese did not budge.
Doubly frustrating is the fact that China has been of zero help in India's anti-terrorism efforts. Last June, Pakistan freed Zaki-ur-Rehman Lakhvi, a chief suspect in the 2008 Mumbai terrorist attack who is listed as a terrorist under UN Resolution 1267. 
China's all-out support for all-weather friend Pakistan has deepened after Xi Jinping's April 2015 visit to Islamabad, during which he announced the 51-project China-Pakistan Economic Corridor (CPEC). While the CPEC is presumably part of China's One-Road-One-Belt initiative, it is overtly hostile to India. It was announced three weeks before Modi's visit to China, an impolite act. With several projects in Pakistan-occupied Kashmir (including a military-use railroad to Xinjiang), it de facto dropped China's decades-long ambiguity on PoK.
When Xi visited India in September 2014, he announced a $20 billion investment in India; the actual number has since dwindled to just $1 billion, spread over many sectors. Commentators exhort India to increase business with China, but as with the boundary dispute, Beijing is in no hurry.
It isn't as if India lacks leverage with China. India and the US recently inked the Logistics Exchange Memorandum of Agreement (LEMOA) wherein each can use the other's military bases; China sees it as a ganging up. India has an ONGC (Oil and Natural Gas) vessel off Vietnam's coast in the South China Sea, about which Beijing is sensitive; the ship will likely stay put. And what China fears most is the Dalai Lama, whose Tibetan government-in-exile is Dharamsala-based.
With Isa's non-visa, however, it appears that even if India holds some cards, it lacks the cojones to play them. This backfiring of realpolitik was a bonfire of vanities, of the strong-man PM and his NSA. The damage to India's reputation, and emergence, will be long-lasting.
Aditya Sinha is a journalist and a writer. He is a contributor to the anthology House Spirit: Drinking in India,to be published by Speaking Tiger in May. The views expressed here are his own.
Last Updated Mar 31, 2018, 7:04 PM IST