Internal rift in Infosys: Even God can't change its numbers, says Nandan Nilekani
Reports are rife that internal rift is evident in Infosys. Even God can't change Infosys numbers, said Nandan Nilekani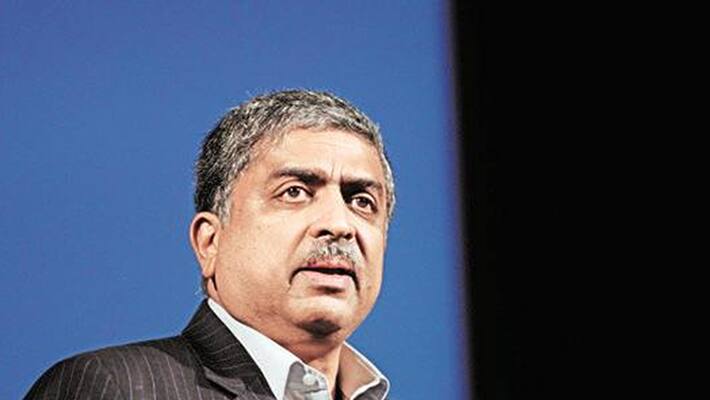 Bengaluru: Infosys founder and chairman Nandan Nilekani backed his analytic team and fellow board members during a conference call with investors on how they handled the whistleblower complaints and said even God can't change Infosys numbers.
Throwing his weight behind the finance team and describing as the best in the field, Nilekani responded to an investor's question. He was questioned on not recognising reversal of $50 million of upfront payment in a contract as alleged in the whistleblower's letter. Nilekani said, "I think Infosys has very strong processes and even God can't change the numbers of his company."
We have an outstanding finance team and these accusations are insulting to them but I don't want to be biased till the investigation reports are out.
According to a report on Times of India, Nilekani said, "Infosys takes whistleblower complaints seriously and is committed to ensuring that every aspect of the allegation is thoroughly investigated. Infosys's response to the recent whistleblower's letter adhered to the company's policy and past practices and complied with all applicable laws and regulations. Contrary to reports that referred otherwise, I can say with certainty that the company acted responsibly in responding to the complaints."
Infosys shares ended at 2.37% higher at Rs 712.30 following the comments of Nilekani. The stocks outperformed Sensex, which ended at 0.55% higher.
The whistleblower alleged that the CEO had asked the finance and sales teams to show better revenue and profit numbers. After the letter was made public, Infosys stocks crashed over 16% and eroded the market value by $7.5 billion.   
Nilekani slammed reports on the involvement of a company's co-founder as accused in the whistleblower's letter.
Last Updated Nov 7, 2019, 1:20 PM IST