Indore restaurant introduces Braille menu for visually impaired customers
An Indore restaurant has introduced Braille menus for visually impaired children. This initiative is a step towards inclusivity in dining experiences. The group also plans to extend this initiative to other cities.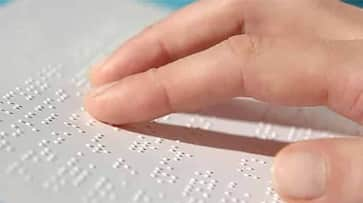 In a step towards social equality, a restaurant in Indore, Madhya Pradesh, has started giving out menus in Braille script so that visually-impaired customers can also order food by themselves. The noble initiative was launched by Gurukripa Restaurant on Saturday. The restaurant welcomed a few visually challenged kids from Mahesh Drishtiheen Kalyan Sangh, and they used the Braille menu cards to place their orders.
The Young Indians group of the Confederation of India Industry began this effort after speaking with various restaurant owners.
"We have invited young people with sight impairments from Mahesh Drishtiheen Kalyan Sangh to attend to them at this eatery. At the restaurant, we had given them menu cards in Braille type. For blind individuals, these Braille script cards will be available at this restaurant starting today," Young Indian Group Chairperson Bhavna Ganediwal said.
Also Read | Not Team India, it's Team Bharat: Sehwag bats for players to wear 'Bharat' jersey for ODI World Cup 2023
"We have specially ordered this Braille script card from Chandigarh. We will be sending 10 such cards to other restaurants. All these restaurants have agreed to have Braille script menu cards," she added.
She expressed her belief that this initiative would instill confidence and self-respect among visually impaired people, knowing that they can order food at the restaurant without depending on anyone else. The group also plans to extend this initiative to other cities.
Also Read | Congress insults President Droupadi Murmu over 'Republic of Bharat' invite; I.N.D.I.A allies say govt spooked
Simran Bhatia Sharma, the owner of Guru Krupa restaurant, shared her enthusiasm for the project, stating, "The Young Indians Group approached us with the idea of creating Braille menu cards. We were thrilled about it. We did not have such a facility till now."
"Today, when we saw children placing orders by reading the menu card in Braille, we felt very happy. Every restaurant owner should start this initiative," she added.
This initiative empowers visually impaired customers to independently choose their meals, addressing a long-standing challenge in the dining experience.
'India' or 'Bharat'? Controversy erupts over G20 dinner invite; check details
Last Updated Sep 5, 2023, 3:40 PM IST