India or Bharat? China interferes in India's internal affairs, mouthpiece lectures PM Modi ahead of G20 Summit
China wades into India to Bharat name-change controversy and offers advice through its mouthpiece to PM Narendra Modi ahead of the G20 Summit 2023 in New Delhi this weekend.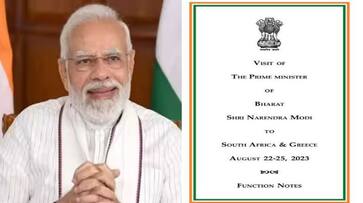 Amid the political row over changing India's name to 'Bharat' in the country, China has waded into the controversy with its mouthpiece Global Times publishing an opinion piece advising India to focus on 'more important issues'. The timing of the piece has raised eyebrows in India as Chinese President Xi Jinping is set to miss the G20 Summit 2023 and instead sending Premier Li Qiang to represent China at the September 9-10 event to be held in New Delhi.
Also read: Xi Jinping's absence from G20 Summit 2023 in India reflects China's diplomatic challenges: Experts
In an opinion piece titled, 'India or Bharat? The country has more important issues', the Global Times stated, " On Wednesday, many people were confused about what was going on. As New Delhi gears up to host the Group of 20 leaders this week, media reports said Droupadi Murmu's reference to herself as the "President of Bharat" in a dinner invitation, instead of "President of India," triggered a controversy. At a time when global attention is focused on the upcoming G20 summit, what does New Delhi want to express to the world?"
Talking about the time when India took on the G20 Presidency in December 2022, the piece noted, "Prime Minister Narendra Modi was quoted by media reports as saying that India's year-long G20 presidency will be "inclusive, ambitious, decisive and action-oriented." Clearly, India wants to use its G20 presidency to enhance the country's international influence."
Lecturing India on how to use the 'increasing global attention', China in its mouthpiece said, "India is one of the fastest-growing economies in the world and is poised to continue on this path. The country has overtaken the UK to become the world's fifth-largest economy, and it aims to become third-largest in the foreseeable future."
"Undoubtedly, India has gained growing world attention. No matter what message India wants to send to the outside world through its G20 presidency, it will gain more weight and more people will pay attention to what India wants to say. Hopefully India can make good use of the increasing global attention it's getting, and turn this influence into a driving force for growth," it added.
Amid the debate of renaming India to Bharat, China in its opinion piece said, "The Indian people have the freedom to call their country whatever they want. However, a name is not the most important thing. What matters is whether India can comprehensively reform its economic system, which can be traced back to before 1947 when the nation became independent. This is the key to India's economic takeoff, and improving India's influence on the international stage. Without revolutionary reform, India cannot achieve revolutionary development."
Also read: G20 The India Story: "1.4 billion Indians introduced to rest of the world through G20 Presidency"
According to China in the mouthpiece, India has a history of economic reforms dating back to 1991, with the Modi administration taking ambitious steps in this direction. However, it claimed that recent tendencies toward trade protectionism and stalled reform measures indicate a need for consistent progress. It further stated that India's capacity for economic growth and international influence is intimately tied to its willingness to embrace reform.
Offering advice to PM Narendra Modi on what Beijing claims to be 'important issues', the opinion piece published in Global Times added, "Since the launch of the "Make in India" initiative by the Modi administration in 2014, there has been a lot of discussion about how to make India a manufacturing superpower. A key step to achieve the goal is further liberalizing its foreign direct investment rules and providing an open, fair and non-discriminatory investment environment for companies from all over the world, including China."
"India's recent strict crackdown on some Chinese companies is connected with rising nationalism and populism in the country. This situation will inevitably undermine investors' confidence in India," it further stated.
As India gears up to host the G20 Summit 2023, China goes on to lecture that, "India assumed the G20 Presidency in December 2022 from Indonesia, and will convene the G20 Leaders' Summit for the first time in India in the coming days. Now, India should use the G20 presidency to demonstrate its determination to reform its economy, expand its openness, attract foreign investment, and provide a fair business environment for foreign investors - and also gradually implement these measures. These are all more important than whether to change the country's name."
Also read: G20 Summit 2023: Opt for shuttle services, download app - PM Modi's do's and don'ts to ministers
Last Updated Sep 7, 2023, 10:05 AM IST