Xi Jinping's absence from G20 Summit 2023 in India reflects China's diplomatic challenges: Experts
China's President Xi Jinping's decision to skip the G20 Summit in India is attributed to internal instability, unfavourable geopolitics, and deteriorating global relations, as experts offer insights into the situation.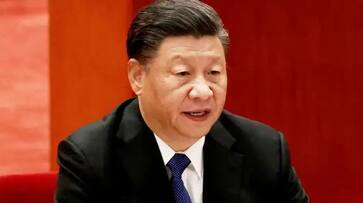 New Delhi: Internal instability, not favourable geopolitical situation and militarization of the Indo-Pacific region have compelled the Chinese President, Xi Jinping, to stay at home rather than attend the G20 Summit that India is hosting on September 9-10 in its national capital, experts opined. 
Asianet Newsable reached out to several geopolitical experts to understand the reason why the Chinese prefer not to attend the Leaders' Summit, instead of sending his Premier. 
Also read: G20 The India Story: "1.4 billion Indians introduced to rest of the world through G20 Presidency"
Strategic affairs expert Major General Sudhakar Jee (Retd) said, "Most of the countries are against China. The differences between American President Joe Biden and his Chinese counterpart are widening. The new map that the Chinese issued has not only created a ripple in India but in 10 other nations also. South Korea, Japan and the US have inked a trilateral agreement against China. Besides, Beijing doesn't want to stabilize its relationship with India. There is internal instability in China. It also has no favourable geopolitical environment with the US, India and other neighbouring countries and I think there is no face-saving gesture left for Xi Jinping. If you connect everything you will find the kind of leadership required at the global stage is missing in Xi Jinping."
Also read: G20 Summit 2023: Opt for shuttle services, download app - PM Modi's do's and don'ts to ministers
He also stated that China's ties with other nations are deteriorating rapidly and he believed that "it's the biggest diplomatic failure from the Chinese side."
"Its economy is in bad shape and unemployment has gone up now. The GDP has gone down," he added. 
At the same time, Sudhakar Jee said that China also doesn't want India to host a successful G20 Summit.
Dr Abhishek Pratap Singh, an expert on Chinese affairs and faculty at the University of Delhi said, "It is a clear signal that they want to jeopardize India's G20 presidency and any prospect for greater global cooperation on economic, social security and political issues. It also shows Chinese unilateralism and disregard for G20"
"The key challenge remains the unease and lack of confidence in bilateral relations. With the G20 incident new complexities in bilateral relations have emerged," he added.
It must be noted that since the Galwan Valley violent faceoffs of 2020, the bilateral relations between India and China have entered into one of its worst phases.
Since then India has been maintaining that there would be no normalcy in the ties till the situation along the line of actual control is resolved. However, the Chinese side has been vowing that the border issues should not have a bearing on bilateral relations.
Also read: G20 Summit: Who are the attendees and absentees? Check full list here
Last Updated Sep 8, 2023, 8:09 PM IST