Independence Day: BJP worker killed while hoisting national flag in West Bengal
Another allegation of political terrorism in West Bengal has come about. A BJP worker was brutally murdered allegedly by TMC supporters while hosting the national flag on Independence Day.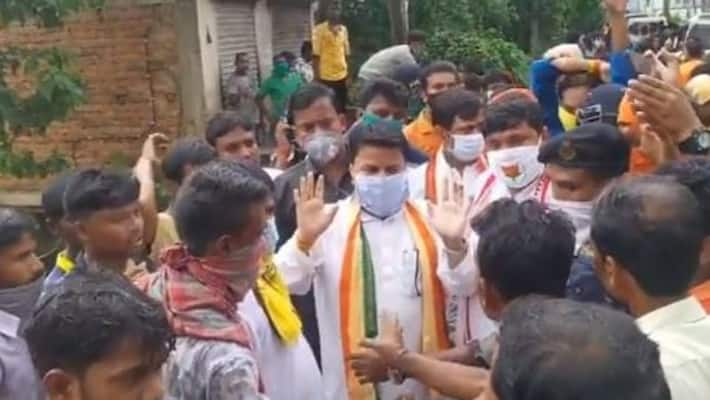 The BJP has again accused the ruling party of political terrorism in the state. The party alleges that Sudarshan Pramanik, a BJP worker in Booth No. 245 of Khanakul Assembly was brutally killed by TMC supporters while hosting the Independence Day flag. Sarjit Samanta, general secretary of the local council, was seriously injured and is battling for life.
 The incident took place at Daulatchak Saju Ghat in Khanakul No. 2 block. The BJP complained that its leaders and activists were hosting the national flag in the area, when miscreants took out an attack on their cadre. Two people were seriously injured in the incident. When they were taken to Natibpur Block Primary Health Centre, doctors declared Sudarshan brought dead.
 The incident caused intense panic and tension in the area. BJP blocked the road for a long time with the body at the spot. BJP Arambagh organization president Biman Ghosh went to the spot. He claimed that Sudarshan was stabbed to death by miscreants who were supporters of the TMC. He warned that if the culprits were not arrested within the next 12 hours, the entire area of Khanakul would be shut down.
 Police rushed to the spot to control the entire situation and recovered the body which was then sent to Arambagh Sub-Divisional Hospital for autopsy. Hooghly Rural Police superintendent Tathagata Basu said the killing was regarding a dispute over hoisting the flag on Independence Day. The deceased was a member of the BJP. Eight people have been arrested so far in connection with the incident. Police are on the lookout for others.
 The TMC has denied the allegations. Party president, Hooghly district, Dilip Yadav said news of the murder is painful to bear and that the TMC does not support any political murder. He also stated that this is the result of the people fighting amongst each other.
Last Updated Aug 15, 2020, 8:30 PM IST