IAF receives Rafale boost, five aircraft formally inducted at Ambala air base
The Indian Air Force formally inducted the Rafale aircraft on Thursday (September 10) into the 17 Squadron 'Golden Arrows'. The 17 Squadron has many firsts to its credit; in 1955 it was equipped with the first jet fighter, the legendary De Havilland Vampire.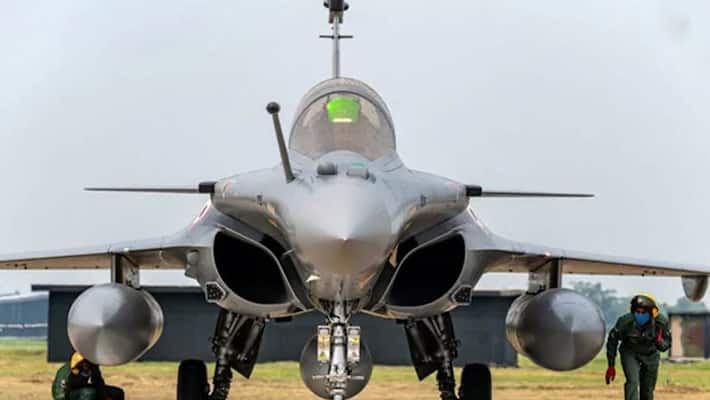 Ambala: The Indian Air Force (IAF) on Thursday (September 10) formally inducted the much talked about fourth-generation flying machine, Rafale in its arsenal. The first batch of five aircrafts was formally inducted into the IAF's inventory at an impressive ceremony held at the strategic Ambala airbase.
The event was attended by Union defence minister, Rajnath Singh and Florence Parly, minister of the armed forces of France. Before arriving in Punjab, the France's minister of armed forces received a ceremonial Guard of Honour at Delhi.
The ceremony at Ambala Air Force Station included a ceremonial unveiling of the Rafale aircraft, a traditional 'Sarva Dharma Puja', Air Display by Rafale and Tejas aircraft as well as by 'Sarang Aerobatic Team'. It was followed by the traditional water cannon salute for the fighter jets. The proceedings culminated the ceremonial induction of Rafale to Golden Arrows.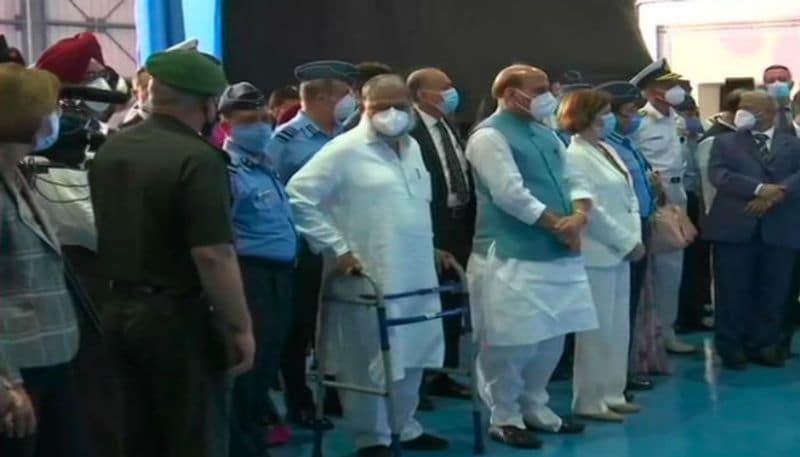 Air Chief Marshal RKS Bhadauria expressed deep appreciation for the French Air Force for their support. He also expressed thanks to the dignitaries present at the event and to the Golden Arrows squadron. He added that he expects Golden Arrows to dominate whenever deployed.
"There is a special strategic partnership between India and France, which is steadily strengthening over time. After India's independence, vibrant defence cooperation has developed between India and France," Defence Minister Rajnath Singh said at the induction ceremony of Rafale fighter jets.
"Both of us are also committed to strengthening the universal principles of 'Liberty', 'Equality', 'Fraternity' and 'Vasudhaiva Kutumbakam' and, spreading it all over the world," he added.
Singh further said, "The induction of Rafale into IAF also represents the strong ties between India and France. The strategic ties between our two countries have also strengthened."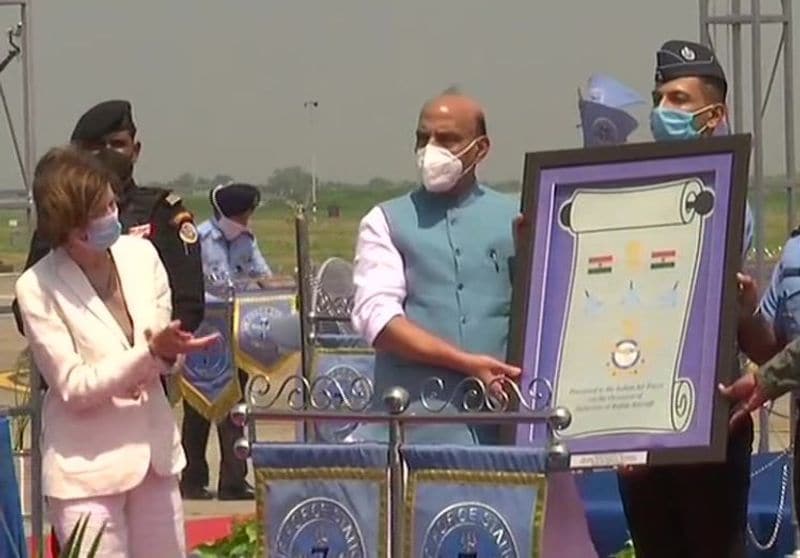 Meanwhile, "Make in India has been a reality for French industries for several years, particularly for defence equipment…But this is not only a military or industrial project. There is bubble of friendship," said Minister of the Armed Forces of France Florence Parly said at Ambala airbase.
"The India-France friendship is rock solid and is time-tested. It based on commonality and trust… Today I warmly congratulate all the people on both sides who put in their heart and soul into making the induction ceremony possible," she added.
Defence Minister Rajnath Singh presented a memento to French Armed Forces Minister Florence Parley, at the Rafale induction ceremony in Ambala airbase.
Last Updated Sep 10, 2020, 12:36 PM IST