FM Nirmala Sitharaman announces Atma Nirbhar Bharat Abhiyan
As stated by Prime Minister Narendra Modi yesterday, finance minister Nirmala Sitharaman announced details of the Rs 20 lakh crore economic package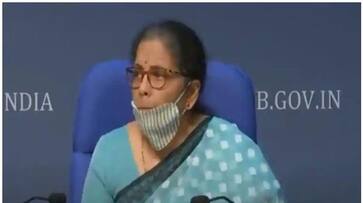 New Delhi: Union finance minister Nirmala Sitharaman on Wednesday unveiled the details of the Rs 20 lakh crore economic package announced by Prime Minister Narendra Modi in his address to the nation a day before. The financial stimulus announced by PM Modi is almost 10% of India's gross domestic product (GDP) and comes as the country battles the economic effects of the coronavirus pandemic.
Here are the top points from Nirmala Sitharaman's address to the nation today:
Prime Minister Narendra Modi laid out a comprehensive vision, and that vision was laid out after wide consultations with several sections of the society. Inputs obtained were given due consideration. This is to spur growth and build a self-reliant India, she said.
FM Nirmala Sitharaman lists 5 pillars of Atma Nirbhar Bharat:
Atma Nirbhar Bharat Abhiyan to be built on 5 pillars. The five pillars are economy, infrastructure, technology-driven systems, demography and demand. Land, labour, liquidity and law will be the focus as part of the 4th pillar. The intention is to grow local to global. Production of masks and PPE has helped globally.
Even in the 2014 regime, the government was sensitive.
To build Atma Nirbhar India, there is DBT, Ujjwala Yojana, AWAS Yojana, Swachh Bharat Abhiyan and Ayushman Bharat. Several schemes which benefitted poor were reform driven.
Garib Kalyan Yojana:
Within hours of the lockdown announced by the PM, the Garib Kalyan Yojana was announced. Rs52,000 crore was transferred to 41 crore accounts. 71 k tonnes of pulses for 6.5 crore card holders were provided.
Beginning today, I will come out with steps.
6 steps for MSMEs:
Six of these steps are for MSMEs; 2 are for EPF, 2 for NBFCs and MFIs, 1 to DISCOMs, 1 for contractors, 1 for real estate and 3 tax measures. 
For MSMEs, collateral free automatic loans worth Rs 3 lakh crore will be provided. This is for a 4-year tenure and is 100% guaranteed. This will last till October 21, 2020. It will benefit 45 lakh units, allowing them to resume activity and safeguard jobs.
Rs 20,000 crore loan for stressed MSMEs:
The government will facilitate provision of Rs 20,000 crore as subordinate debt, which will benefit 2 lakh MSMEs. Fund of Funds will infuse Rs 50,000 crore equity for those MSMEs who have potential and are viable.
Definition being changed for MSMEs in their benefit:
Investment limits which defined MSMEs have been revised upwards. Additional criteria is being brought in its turnover size.
There is a differentiation between manufacturing and service MSMEs. A unit will be considered a micro unit - even if has investment of up to Rs 1 crore or if the turnover is up to Rs 5 crore.
Big push for local industries:
Global tenders in government procurement will be disallowed for up to Rs 200 crore or less. Small units can be part of government purchases and now self-reliant India can Make in India.
Sixth step for MSMEs:
Sixth step for MSMEs is that post COVID-19, since trade fairs and exhibitions will be difficult, e-market facilities will be provided. The Government of India and Central Public Sector Enterprises (CPSE) will honour every MSME receivable in the next 45 days.
EPF relief for all establishments with Rs 2,500 crore liquidity support:
Liquidity relief is being given for all EPF establishments. Support will be extended for another 3 months. 3.6 lakh establishments will be benefited. EPF contribution will be paid by the government of India.
Relief for private companies:
To increase take-home salaries for those not covered in EPF benefit, the statutory PF contribution is being reduced from 12% to 10%. For state PSUs - the employers will continue to pay 12%, employees will get the option to pay 10% for the next three months.
Rs 30,000 crore special liquidity scheme for NBFCs/HFCs/MFIs:
The government is launching a Rs 30,000 crore special liquidity scheme where the government will buy investment grade debt papers of NBFCs, HFCs and MFIs - not high quality only. These securities will be fully guaranteed by GoI. For NBFCs, HFCs and MFIs - Rs 45,000 liquidity infusion through partial guarantee scheme.
One-time provision for PFCs and RECs:
To help them, a one-time emergency liquidity infusion of Rs 90,000 crore via PFC and REC is provided. This is a big relief for power distribution firms.
Additional 6 months for govt contractors to complete ongoing projects:
All GoI agencies, such as Railways, highways or central public works, will give three to six months extension to all contractors without extra costs. This will cover construction work and goods and services contracts, completion of works and intermediate milestones, and also concessional period in PPP contracts.
Relief to contractors:
In relief to contractors, the finance ministry announces an extension of up to 6 months to be provided by all central agencies like Railways, Ministry of Road Transport and Highways, Central Public Works Dept. Projects with a deadline of March 25 to benefit. TDS and TCS rates cut by 25% till March 31, 2021.
The finance minister also added that all pending refunds of charitable trust, non-profit business, cooperatives and small partnerships shall be issued immediately. Due date of all I-T returns for FY19-20 from July 31, 2020 and October 31, 2020 will be extended till November 30, 2020. 
Last Updated May 13, 2020, 5:47 PM IST