First Arnab, now Postcard News co-founder Vikram Hegde heckled by three women at Mangaluru Airport
Three women try to intimidate Postcard News' Mahesh Vikram Hegde at the Mangaluru Airport, Karnataka, and plead him to sing Vande Mataram to prove his nationalism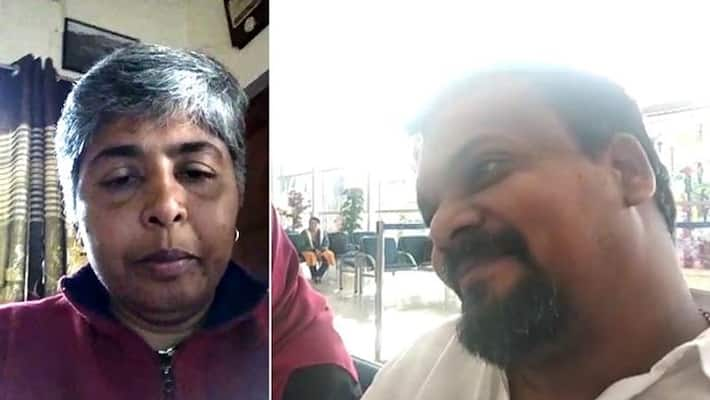 Mangaluru: First it was comedian Kunal Kamra heckling journalist Arnab Goswami and this time Postcard News co-founder was a victim.
Mahesh Vikram Hegde, the co-founder of website Postcard News, was heckled by a group of women at Mangaluru Airport in Karnataka on Friday morning and asked to sing Vande Mataram to prove his nationalism.
The women were identified as Kavitha Reddy, Najma Nazeer and Amulya Leona. 
They coerced Hegde to sing "Vande Mataram" and prove his patriotism "for the country". "Please, please. We want you to sing for the country, let's sing Vande Mataram," said the women as Reddy, Leona and Nazeer sat next to Hegde right in the airport, wearing a burqa and red scarf.
"Vikram, this is the best opportunity to turn into a hero from zero," continued Reddy.
The girls promised Hedge that they will join him in singing Vande Mataram with him. The hecklers were unmoved in their pursuit but Hegde maintained his composure and often smiled at their immaturity.
Later in the video, Leona said, "This is for you. It's your time now, come on."
As Hedge sat uncomfortably, the girl started pleading him to please sing the national anthem.
"Do you remember what time Godse killed Gandhi? Do you remember? Come on sing Vikram. You have been torturing us on Facebook all the while now," said one of the women referring to his posts.
Take a look at the video yourself:
Hegde did not utter a word but was uncomfortable with the girls asking him to sing, moving as he sat.
Kavitha Reddy termed their act as a challenge for Vikram to prove his nationalism.
It is now evident that physical assault, intimidation and public harassment is being weaponised to deride the dissenters. While it is perfectly fine to disagree with someone but harassing a journalist and dubbing it as "trailer" sets a dangerous precedent of fascism.
Last Updated Jan 31, 2020, 6:55 PM IST