Pickle Affair: An ode to Karnataka's 'Appe Midi'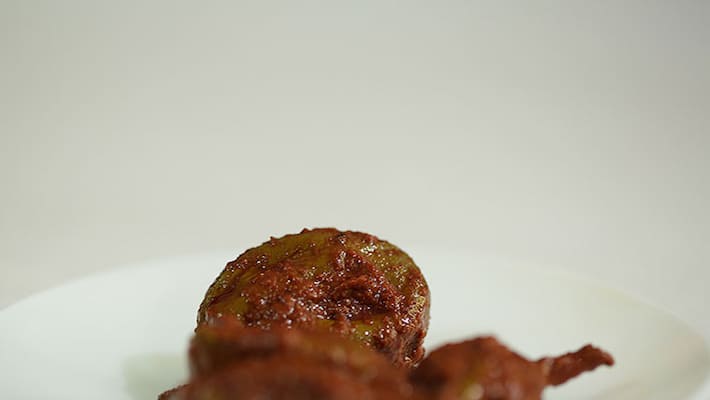 A taste for the Tamil pickle Maavadu is an acquired one. It is quite imaginably the primeval Indian pickle, that fits perfectly the Tamil word for it, oorukai, or soaked vegetable. Maavadu (maa is mango in Tamil and vadu means tender) is baby mangos that usually hit the markets before the Indian New Year festival of Ugadi in early April.  
In its essence,  maavadu is marked by its simplicity. Mix castor oil-coated baby mangos with generous quantities of salt, and add to it ground seeds of fenugreek and mustard, some turmeric and chilli powder. The pickle ought to be stored in a non-reactive containers such as glass or ceramic jars  and stirred twice a day for week till such a time when the baby mangos shrivel in a brine of their own making.
The acquired nature of maavadu's taste is also largely due to its Tambrahmincal roots. The pickle only finds friends among die hard curd ricers.
The chances of this pickle going bad are higher compared to say the Andhra avakaya which uses copious amounts of oil. Even a minor misstep in the making of maavadu usually results in a film of fungus floating on top. Plus, some baby mangos (if not selected with the greatest of care) could go black and squishy, spreading the rot across the bottled batch very quickly.
The unpredictability of the output and the general clumsiness involved in consuming the pickle (make a minor initial incision on the fleshiest bit with a careful bite; slice the fruit open with thumb and isolate the well camouflaged tender seed, which when consumed, multiplies the bitterness of the already slightly bitter baby mango) was an added deterrent.   
Despite being a pickle addict, I never ever warmed up to the maavadu, and developed a disdain for friends and family members who  not just devoured these baby mangos but also drank its thin, dastardly-mustardly brine by the bucket.
Life 'Midi'fied
Relocating to Bengaluru, opened my eyes to the mind zappingly magnificent Karnataka version of the maavadu called Appe Midi or simplymidi uppinkayi.  Also, this lovely 2012 post by journalist DP Satish on the legendary uppinkayi Bhattru in a Shimoga village who made the 'best mango pickles' in India, remained lodged in my head.
Two things make the Karanataka midi KO the Tamil maavadu in Round One. It's not much of a contest.  
The midi is made only from a special variety of oblong wild mangos native to Karnataka's Malnad or hill region. This variety is pretty much useless for anything else. It's pickled with about half an inch of the stalk intact (the latex the stalk contains lends certain woodiness, and a citrusy) and lacks the bitter hit of maavadu.
Every year, local newspapers report an alarming decline in the number of midi bearing trees pushing prices up all the time.
Master picklemakers such as Shimoga's Uppinkayi Bhattru are known to not make midi if they don't get their hands on the best variety of mangos.
Second, the midi's masala (or gravy for the lack of a more appropriate term) is much thicker, spicier than maavadu thanks to larger quantities of red chilli and mustard powder.  It can be a zesty accompaniment not just to curd rice. My Malnad colleague says people in the region have it with dosa, upma,  sambar rice, chitrannas, chapatis or just about everything. 
Having opened my third bottle of midi for the month of April, I cannot disagree.
Last Updated Mar 31, 2018, 6:38 PM IST