Fact-Check: PM Modi is NOT giving 3 months free mobile recharge for votes
A message is doing rounds on social media that the BJP led by PM Modi is offering three months of free mobile recharge ahead of the Lok Sabha Elections in 2024. Let's check the facts.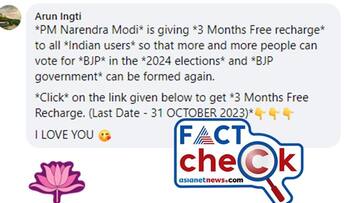 Ahead of the general elections in 2024, a message is circulating on WhatsApp, Twitter and Facebook that Prime Minister Narendra Modi and his party, the Bharatiya Janata Party, are providing three months of free recharge to all Indian mobile service customers. A message promoting this offer along with a website link is doing rounds on social media.
Let's check what is the message:
BJP Free Recharge Yojana: PM Narendra Modi is giving 3 Months Free recharge to all Indian users so that more and more people can vote for BJP in the 2024 elections and the BJP government can be formed again. Click on the link given below to get 3 Months Free Recharge. (Last Date- 31 October 2023).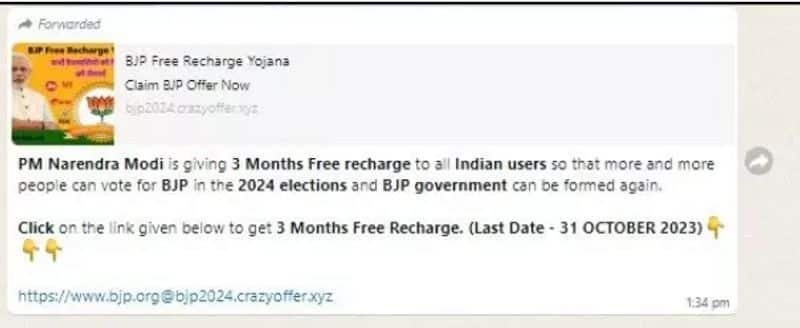 Fact:
Fact check was done as each service provider has different recharge plans and the link with the message did not seem reliable. The fact is that neither the BJP nor the central government has put such an offer before the people. There is no such message on BJP's social media accounts or official website about providing free mobile recharge for three months. 
The authenticity of the circulating link was also checked in detail. The official website ID of BJP is www.bjp.org. However, the URL of the website with the recharge offer message is different https://www.bjp.org@bjp2024.crazyoffer.xyz. This website's domain shows the US (America). With this, it is confirmed that the website link with the message is not that of BJP or Prime Minister Narendra Modi. 
 
Last Updated Oct 24, 2023, 3:37 PM IST