Fact Check: No, tourism ministry has not ordered hotels to be closed till October 15 due to coronavirus
Don't believe this fake news which claims that the ministry of tourism has ordered closure of hotels till October 15, 2020 due to the novel coronavirus (COVID-19)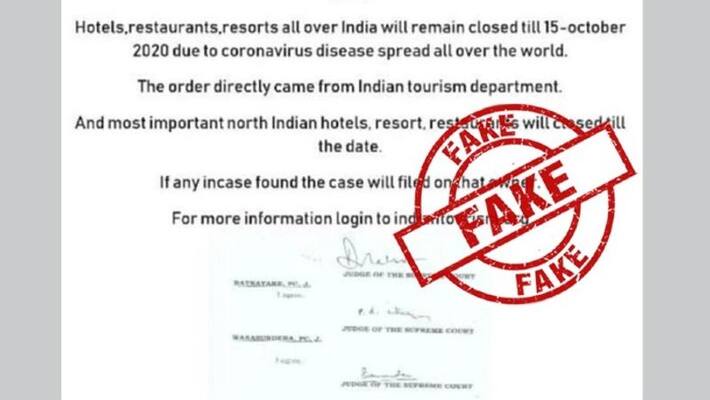 Bengaluru: In these difficult times due to the novel coronavirus (COVID-19) pandemic, people have to deal with one more issue – fake news. There is no dearth of misinformation on social media and on WhatsApp.
As India continues to be under a 21-day lockdown to contain the spread of virus, there is a fake circular being shared on social media WhatsApp about hotels/restaurants being ordered to shut till October 15, 2020 due to the coronavirus.
Also read: Watch 'Yamraj' roaming streets during lockdown
However, this is fake. The ministry of tourism has not issued any such letter. The fake news was demolished by Press Information Bureau (PIB) on its Twitter handle on Wednesday (April 8).
Also read: Village sealed due to coronavirus case
"Be cautious of #Fake order claiming that hotels/resturants will remain closed till 15th October 2020 due to #Coronavirusoutbreak.#PIBFactCheck: The order is  Fake and has NOT been issued by Ministry of Tourism. Do not believe in rumours! (sic)," PIB Fact Check tweeted to its followers.
Replying to this message, one of the Twitter users demanded action against those who are spreading fake news. "Sir. Why don't we take actions agnst main culprit behind dis fake news. We don't hv any agencies or cyber expert who can decode dis fake messages and reach out to main culprit. Also send notices to journalist, politicians or all blue tick fellow whoever share this w'out research (sic)," the user tweeted.
Last Updated Apr 8, 2020, 12:53 PM IST