Coronavirus lockdown: 'Yamraj' roams streets of Haridwar; warns people (Video)
Uttarakhand Police have deployed 'Yamraj' to create awareness about the importance of staying at home during the 21-day lockdown in India due to the novel coronavirus (COVID-19) pandemic. Watch the video of 'Yamraj' delivering a message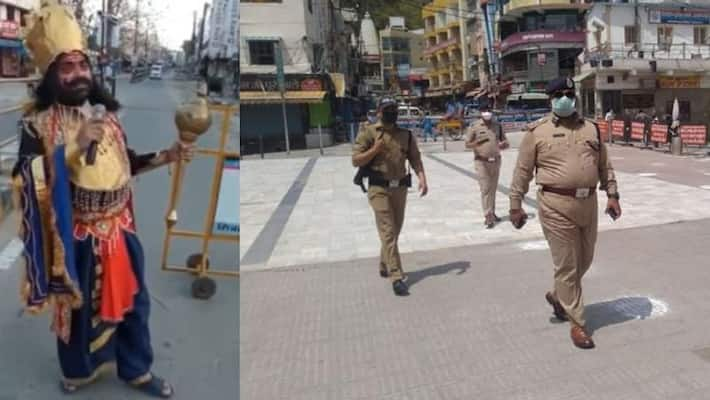 Haridwar (Uttarakhand): To create awareness and prevent people from coming out of their homes during the 21-day lockdown due to the novel coronavirus (COVID-19) pandemic in India, Uttarakhand Police have come up with a unique idea.
Prime Minister Narendra Modi, various political leaders, sportspersons and others have been continuously urging people to stay home and stay safe to stop the spread of the virus. However, there are some who have defied lockdown orders across the country and come on to the streets unnecessarily.
Also read: Village sealed after coronavirus case reported
To stop people in Haridwar district from coming out of their homes, Uttarakhand Police have deployed "Yamraj", the God of death. An artist, dressed up as "Yamraj" is roaming on the streets of Haridwar and is urging people to stay indoors.
The official Facebook page of Uttarakhand Police shared a short video of "Yamraj" speaking on microphone and stating how important it is to stay at home.
Also read: Transgender community roped in to shame lockdown violators
He is seen speaking in Hindi. "I am Yam; if you come out of your houses I will remove your power. Corona is my yamdooth. If you don't take precaution and don't follow state administration's directives, my yamdooth will send you to yamlok," the artist said.
Along with the one-minute and 12-second video, Uttarakhand Police wrote, "Yamraj himself has landed on the streets to make people aware of coronavirus. Sub inspector Vijay Prakash of Uttarakhand Police in Haridwar adopted a unique method to make people aware of coronavirus. Harimohan, a social worker and artist from Kharkhari locality (in Haridwar), in the form of Yamraj, along with the police force asked the people of the Kharkhari area to fight the coronavirus, by staying in their own homes."
They also urged people to clean hands regularly. Uttarakhand Police said, "Clean your hands thoroughly, while coming out of the house, put a mask on your mouth and use social distancing to buy the essential goods you need. And, at other times you can get coronavirus when you get out of your home (unnecessarily). You and your family can become infected with all the people around you (on the streets) and you could fall prey to coronavirus."
Last Updated Apr 7, 2020, 7:03 PM IST