Exclusive: Chain snatcher seeks out Suvarna News anchor's help in returning gold chain to victim
Chain snatching incidents are reported every now and then and cops have a hard time nabbing the culprit. But here's an interesting story in which the chain snatching incident took a complete U-turn and a stolen chain was sent to a TV anchor with the faith that it will be returned to the rightful owner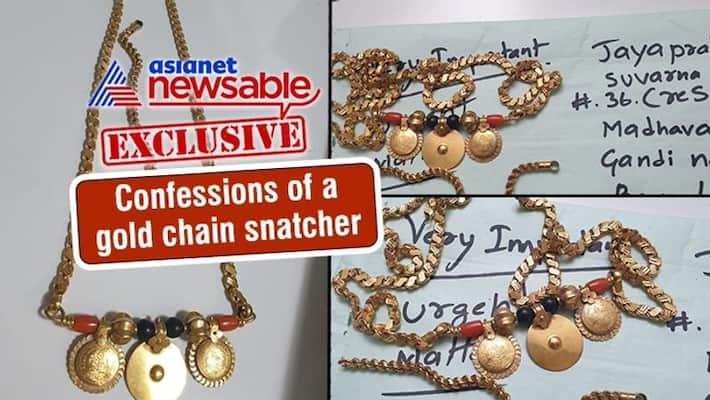 Bengaluru: Crimes like chain snatching incidents, inter alia, are common, and the police are always on alert to nab such miscreants. We often hear of and see heroic acts in real life similar to scenes from the movies, where people chase miscreants and return stolen property to the rightful owner.
But today (September 18) we bring you a story that has never happened before. For the first time in the history of Kannada media industry, in a twist of events, a chain snatcher from Bengaluru contacted Suvarna News channel in the hopes of returning the chain he had snatched to its rightful owner.
The chain snatcher sent the stolen chain to Jayaprakash Shetty, Suvarna News anchor, with the faith that it will be returned to the owner.
Interestingly, the snatcher had given the address of the person from whom he had snatched the chain. This helped the team at Suvarna trace the family, invite them to the studio and handover the jewellery.
The stolen chain reached the Suvarna office by post addresses to anchor Jayaprakash Shetty. The snatcher wrote a letter to anchor along with that gold chain. 
"This is for the first time I have committed such a crime. I was jobless, penniless, due to Corona effect. Later I realized, what come may, I should not have done that. I am sorry, people, I am sorry Bengaluru Police. Here by passing on the chain to the family I hurt, via Suvarna TV," wrote the snatcher in his letter addressed the Anchor. 
Bengaluru Police helped Survana news trace the family so that anchor Jayaprakash Shetty can handover the chain to them. 
On the dreadful day of September 9, 2020, a chain snatcher stole the victim's (Kasthuri) gold chain in Indiranagar Police Station limits. She along with her husband immediately fined a complaint with the police. 
The victim came to the Suvarna studio and received her stolen gold chain weighing about 80 grams worth Rs 5.5 lakh. 
Kasthuri and her husband Balasubramayam initially did not want to forgive the chain snatcher as they have been though hell since the day they lost the chain. However, the elderly couple advised the snatcher not to indulge in such criminals acts again as everyone is going through a tough time now with the ongoing coronavirus pandemic. 
The elder couple wished that the snatcher would be forgiven for his deed as he is repenting his act. 
All's well that ends well! 
Last Updated Sep 18, 2020, 6:55 PM IST