Delhi-NCR's air quality turns 'severe', schools to be closed for 2 days
Delhi's air quality index increased to 460 on Friday, even as GRAP-III regulations are under implementation in the national capital. The Delhi government is set to hold a meeting today at 12 pm to discuss the worsening situation.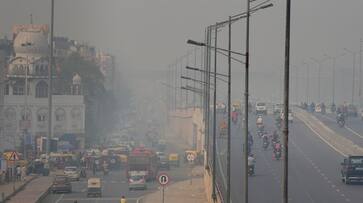 The air quality index (AQI) in Delhi was 460 at 7 am on Friday and approached 500 in several areas of the city, causing haze. Since an AQI of 400 or more is classified as "severe," the authorities have taken action in response to the deteriorating air quality.
On Thursday, the administration of Delhi announced that all elementary schools, both government and private, would be closed for two days. In light of the deteriorating circumstances, the authorities have also summoned an emergency meeting for today at 12 p.m. to consider additional steps that should be taken.
The Delhi AQI fell to 460 on Friday, the lowest level of the year. It began to become worse over the last three days and was last reported at 422 around 10 p.m. on Thursday. On Wednesday, it was 364; on Tuesday, it was 359; on Monday, it was 347; on Sunday, it was 325; on Saturday, it was 304; and on Friday, it was 261.
Also Read | 'My son's middle name Chandrasekhar': Billionaire Elon Musk tells Indian minister at UK AI summit
Delhi Chief Minister Arvind Kejriwal announced on social media on Thursday that due to increased pollution, all public and private elementary schools in the city will be closed for the next two days. His tweet on X stated, "All government and private primary schools in Delhi will remain closed for the next two days due to the rising levels of pollution."
Gopal Rai, the environment minister for Delhi, has scheduled a meeting to talk about what has to be done in light of the deteriorating circumstances. The Graded Response Action Plan's third stage of execution will be covered during the meeting. Gopal Rai will conduct a news conference at the Delhi Secretariat at 1 pm following the meeting. He stated that further instructions will be released in this respect.
Also Read | Kerala: IMD predicts heavy rainfall today; orange alert in Idukki district
Given the deteriorating circumstances, the Centre's pollution control panel has also mandated an urgent halt on mining, stone crushing, and non-essential building activities in the area. The Centre has already activated Stage III of the Graded Response Action Plan (GRAP), the Centre's air pollution control plan which is implemented in the region during the winter season.
GRAP categorises actions into four stages: Stage I - 'poor' (AQI 201-300); Stage II - 'very poor' (AQI 301-400); Stage III - 'severe' (AQI 401-450); and Stage IV - 'severe plus' (AQI above 450).
Last Updated Nov 3, 2023, 10:26 AM IST