Delhi minister Raaj Kumar Anand's house searched by ED in money laundering case
A search by the Enforcement Directorate (ED) is underway at 12 premises linked to Aam Aadmi Party (AAP) leader and Delhi Minister Raaj Kumar Anand. The raids which are currently being conducted at Raaj Kumar Anand's residence are in connection with a money laundering case.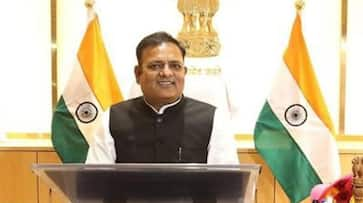 The Enforcement Directorate (ED) is conducting searches at Delhi cabinet minister and Aam Aadmi Party (AAP) leader Raaj Kumar Anand's residence in a money laundering case. In relation to the case, raids are now taking place at 12 different sites in Delhi.
The searches were initiated based on the prosecution complaint filed by the Directorate of Revenue Intelligence (DRI) alleging false declarations on imports for customs evasion of more than Rs 7 crore and international hawala transactions. 
Anand, 57, is an MLA from Patel Nagar and the Minister for Social Welfare and SC/ST Welfare, among others, in the AAP-led Delhi government.
Also Read | Delhi CM Arvind Kejriwal to skip ED summon, will hold road show in Madhya Pradesh today
The searches at Anand's residence comes as AAP leader and chief minister of Delhi, Arvind Kejriwal, skips today's ED summons on the liquor policy scandal. Kejriwal's colleague and former Delhi Deputy Chief Minister Manish Sisodia is already behind bars in the same case.
Meanwhile, Kejriwal called the ED summons "illegal" and "politically motivated" in his response on Thursday. "The notice (ED summons) sent at the behest of the BJP. It was sent so that I could not campaign in four states," the Delhi Chief Minister's notice to the probe agency said.
Also Read | Delhi Excise Scam Probe: Arvind Kejriwal writes to ED, calls summons illegal and politically motivated
Six months earlier, the Central Bureau of Investigation (CBI) interrogated Kejriwal for almost nine hours over the Delhi liquor policy scandal. Due to claims that the AAP preferred some dealers, the Delhi liquor policy case for 2021–2022 has been shelved. The CBI and ED are also looking into this matter.
Also Read: ED summons Arvind Kejriwal: Delhi Excise Scam and why AAP is wary of its chief being arrested
Last Updated Nov 2, 2023, 10:48 AM IST