Delhi Excise Scam Probe: Arvind Kejriwal writes to ED, calls summons illegal and politically motivated
In a written response to the Enforcement Directorate (ED), Delhi Chief Minister Arvind Kejriwal labelled the summons "illegal and politically motivated," suggesting it was orchestrated by the BJP to hinder his election campaign in four states. Kejriwal called upon the ED to withdraw the notice promptly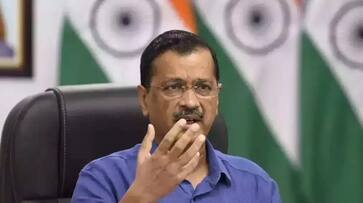 Delhi Chief Minister Arvind Kejriwal on Thursday responded to the Enforcement Directorate, which had summoned him in connection with an alleged liquor policy scam. Calling upon the agency to withdraw the notice immediately, the Aam Aadmi Party chief termed the summons as "illegal and politically motivated." 'The notice was sent at BJP's behest. It was sent to ensure that I am unable to campaign for the elections in four states. The ED should take back the notice immediately,' he wrote in his response to the agency.
Also Read: ED summons Arvind Kejriwal: Delhi Excise Scam and why AAP is wary of its chief being arrested
Kejriwal had been summoned by the ED for questioning in connection with the alleged liquor policy scam. This investigation centers on the Delhi government's excise policy for 2021-22, which was later scrapped, amid allegations that it favored specific liquor dealers. 
The Aam Aadmi Party (AAP), led by Kejriwal, has strongly denied these accusations. Kejriwal's summons by the ED, which is examining the money laundering aspect of the case, comes after the Supreme Court rejected the bail petition of his former deputy, Manish Sisodia, who is the primary accused in the case. The Supreme Court judges indicated that a money trail of Rs 338 crore had been tentatively established.
Although Kejriwal had previously been questioned by the Central Bureau of Investigation (CBI) in this case back in April, this marks his first summons by the ED. The AAP has alleged that Kejriwal's potential arrest is part of a plan by the Bharatiya Janata Party (BJP) to target top leaders of the INDIA alliance ahead of the 2024 Lok Sabha elections. They claim that the BJP is alarmed by the formation of the INDIA alliance and is seeking to disrupt its leadership.
The arrests of senior AAP leaders in this case have raised tensions, with Manish Sisodia and Rajya Sabha MP Sanjay Singh both taken into custody. Delhi Minister Satyendar Jain also faced arrest in a money laundering case last year. The AAP alleges that these arrests are politically motivated, while the BJP asserts that the agencies are acting independently and following due legal process. The ongoing controversy underscores the political divide and acrimony between the two major parties.
Last Updated Nov 2, 2023, 9:33 AM IST