Delhi's air quality improves after rainfall, still remains in 'poor' category
Rain brought a huge sigh of relief for residents in the national capital, who have been breathing toxic air over the last few weeks. The overall air quality in the national capital continued to stay in the 'poor category' with AQI at 204 marking a significant improvement from the last few days.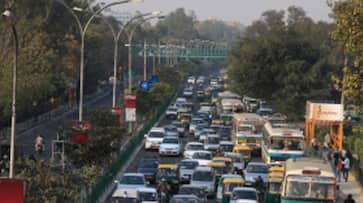 The air quality in Delhi on the morning of Diwali saw a marginal dip and remained in the 'poor' category, according to the Central Pollution Control Board (CPCB). This morning, the Air Quality Index (AQI) was recorded at 266 in Anand Vihar, 241 in RK Puram, 233 in Punjabi Bagh, and 227 in ITO. The minimum and maximum temperatures are expected to stay at 14 degrees Celsius and 28 degrees Celsius, respectively.
On Saturday night, the pollution levels had drastically decreased, but by nightfall, they had returned to their previous levels. Delhi residents have been cautioned to stay away from regions with high levels of air pollution, such as slow-moving, high-traffic roadways, neighbourhoods close to companies that produce pollution, construction or demolition sites, and other similar locations.
Also Read | Telangana Election 2023: 'Beta, ye thik nahi hai…' PM Modi to woman as she climbs light tower during rally
The Delhi health department also issued advisories on Saturday cautioning people against taking walks outside, setting off firecrackers, and being near air pollution. The Delhi administration was forced to postpone the introduction of the odd-even plan for vehicle plying on highways due to the improvement in air quality on Friday.
Unfavourable weather patterns, car emissions, burning paddy straw, firecrackers, and other local sources of pollution all contribute to dangerously high wintertime air quality levels in Delhi-NCR.
Also Read | Ayodhya Deepotsav 2023: Over 22 lakh diyas illuminate Lord Ram's city on Diwali (PHOTOS)
Delhi Environment Minister Gopal Rai had on Friday announced that the state government would delay the proposed implementation of the odd-even car-rationing scheme in the city. The Delhi government is making efforts to execute anti-pollution measures, and it is also considering the idea of 'artificial rain' to curtail the pollution issue. 
The Supreme Court on Tuesday expressed grave concern over the hazardous air quality in the national capital and directed that farmers should stop stubble burning forthwith in Punjab, Haryana, and western Uttar Pradesh, saying it was one of the major contributors to air pollution.
Last Updated Nov 12, 2023, 11:16 AM IST