'Deeply' disturbed foreign journo blames Nehru's law on Modi
Le Monde's Julien Bouissou found himself deeply disturbed by new 'restrictions'.
Only trouble is the restrictions were put in place by PM Nehru.
Apparently, this journalist only discovered this old law today.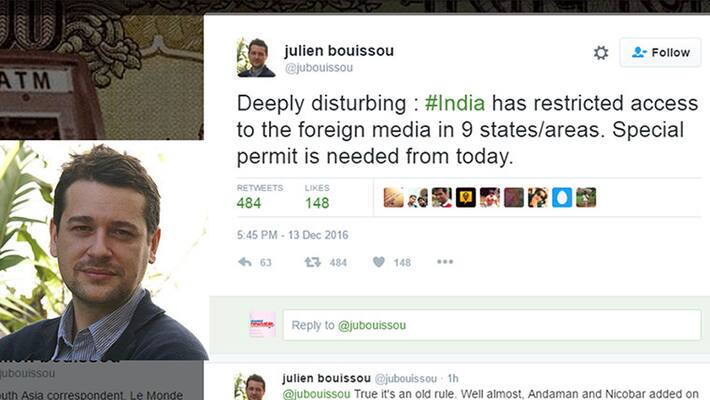 There are many accusations that there is a small cottage industry of people whose only job is to discover things about India they deem as 'problematic' and then tom-tom about it, irrespective of the facts. Such accusations mostly feel like a conspiracy theory peddled by a particular wing of online Indians. 

And then, one stumbles upon cases like this. Meet Julien Bouissou. According to his Twitter bio, he is the South Asia correspondent for Le Monde, a major French newspaper. The paper was established in 1944 and sells about three lakh copies a day, besides having a popular website. It is considered an excellent media organisation and focuses more on opinions and analysis than 'breaking news' coverage. 

So if someone did write for the paper, they are expected to give informed opinions. It was, therefore, a bit startling when Bouissou announced this on this Twitter account - 
"Deeply disturbing : #India has restricted access to the foreign media in 9 states/areas. Special permit is needed from today."

This certainly came as news to those of us in the Indian media. If this were true, this would be breaking news, possibly the biggest news of the day. After all, the government has cracked down on foreign NGOs and made a huge circus about its ban. And Parliament is in session, so a new law is also possible. 

But there was silence from all quarters. On being questioned which states exactly these 'deeply disturbing' restrictions were going to be in place, Bouissou helply gave a list. 
@Memeghnad Andaman & Nicobar, Arunachal Pradesh, Jammu & Kashmir, Manipur, Mizoram, Nagaland, Sikkim, Parts of Rajasthan and Uttaranchal
If that list seems familiar, then because it is. 

Firstly, and most importantly, this is a list of India's border states and Andaman Nicobar Islands (where we have a massive naval base). And secondly, this list will be very familiar to travellers, since this is a list of states that require a special permit. This permit is legalised thanks to the Foreigners (Protected Areas) Order. 

This law seeks to restrict the presence of ALL foreigners - media or otherwise, in India's sensitive border areas. . 

Yes, 1958. Jawaharlal Nehru was the Prime Minister, and it was the second-ever Lok Sabha session. The Congress was in full majority, having won 371 seats in the 1957 General Election. It was the same year that the Armed Forces (Special Powers) Act was also passed, first applied to what is today Nagaland. 
All of this, incidentally, was discovered in about five minutes with some basic amount of searching. This has not stopped Bouissou's tweet from being shared more than 500 times. What is perhaps more amazing is that a Supreme Court lawyer, with a blue-ticked verified Twitter account, re-tweeted the same as well. 
Neither of them could produce an actual order on the 'new' restrictions, whatever they are.
Even the Ministry of External Affairs was not silent. Vikas Swarup replied to this tweet, stating - 
"@jubouissou Nothing disturbing about reititer'g a rule that has been in place 4 a long time 4 foreigners in general."

So basically the government perhaps issued the same old law, or perhaps decided to act on it and demanded foreigners get their permits. It is not a new law, for sure. 
Eventually, after being bombarded by questions and queries, Bouissou retweeted an explanation - 
"@jubouissou True it's an old rule. Well almost, Andaman and Nicobar added on the list of "protected area". "parts of Himachal" removed."
Nice to know. 

There is plenty wrong with this country. Is it too much to ask that foreign journalists bother to verify some facts, before being 'deeply disturbed' before the audiences? 
Last Updated Mar 31, 2022, 2:09 PM IST