Curfew in Bengaluru East: 5 rules to ensure your safety
As the probe is on, more persons related to Bengaluru Violence are expected to be arrested and detained for questioning. Authorities have decided to extend the curfew keeping in mind Ganesh Chaturti and the volatile situation in Pulakeshinagar. Curfew in the area has been extended till August 21 and guidelines have been issued to the public.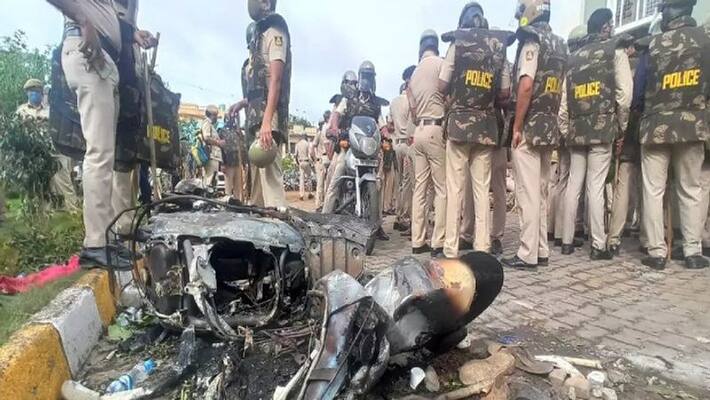 Curfew in Bengaluru East in Pulakeshinagar, KJ Halli, DJ Halli, and Kaval Byrasandra has been extended till August 21 and police have issued these five guidelines to the public.
Considering the upcoming Ganesh Chaturti on August 21, and the sensitive situation in the violence-hit area, authorities do not want to take a chance and have decided to extend the curfew.
Also read: MLA Zameer Khan who oversaw burial of 3 persons killed in Bengaluru Violence tests positive for COVID-19
The public in the area must follow these rules to avoid arrest and lathi-charge from the police.
1-Not more than two persons are allowed to walk on the road.
2-Stepping out without a valid reason is not allowed.
3-No person can act or behave in a manner that hurts the sentiments of others and create panic in society.
4-No rallies, and no one is allowed to come out with weapons
5-Bursting of crackers, accumulating of the same, procession for funeral in large numbers, songs, dance is also banned.
Also read:  Bengaluru violence: Siddaramaiah says 1 faction of BJP deriving advantage to oust Yediyurappa government
On August 11, following a controversial post on Prophet Muhammed by a Congress MLA's relative caused mayhem and a mob went on a rampage. Police had to open fire and lathi-charge the violent mob which has resulted in the death of four persons.
The CCB which has taken over the case has so far arrested over 360 people and yesterday summoned former mayor R Sampath Raj and BBMP corporator AR Zakir for questioning and have taken their phone for technical analysis.
Last Updated Aug 19, 2020, 10:46 AM IST