Coronavirus: Singer SP Balasubrahmanyam's health condition extremely critical
SP Balasubrahmanyam got admitted to MGM Healthcare hospital on August 5 after testing positive for the novel coronavirus


Chennai: The latest bulletin from MGM Healthcare Hospital in Chennai says singer SP Balasubrahmanyam is extremely critical and on maximal life support. According to the hospital's press statement, doctors who are treating him are closely monitoring his health condition.
The singer was improving in the last couple of weeks, but his condition worsened on September 23.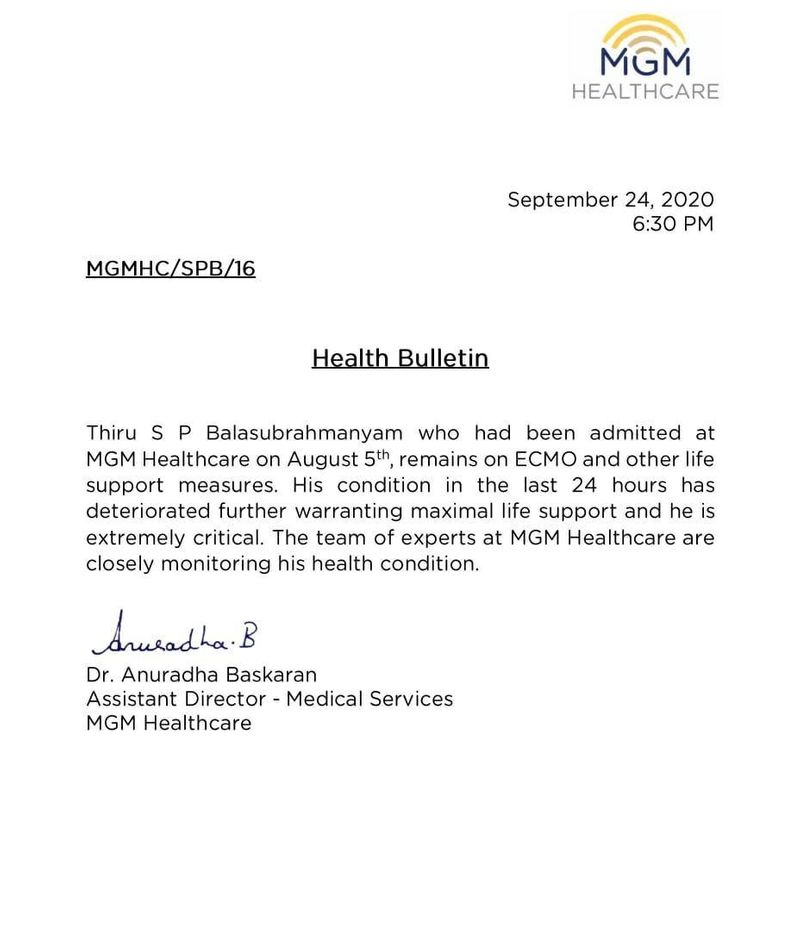 The hospital statement read, "Thiru SP Balasubrahmanyam who had been admitted at MGM Healthcare on August 5th, remains on ECMO and other life support measures. His condition in the last 24 hours has deteriorated further warranting maximal life support and he is extremely critical. The team of experts at MGM Healthcare are closely monitoring his health condition."
Also read: Coronavirus: Singer SP Balasubramaniam still on life support but stable
On September 22, SP Balasubrahmanyam's son SP Charan took to Twitter to share an update regarding his father's health condition. He wrote, "Dad continues the steady progress toward getting better. Ekmo/ventilator, physiotherapy continue with oral intake of liquids. He's been eager to leave the hospital as early as possible (sic).
The singer was admitted on August 5 to MGM hospital after he tested positive for COVID-19. On August 13, his condition worsened. When the singer's condition became serious by August 20, fake messages regarding his health started to float.
Following this, Charan issued a clarification and asked people not to fall for such rumours and also asked media to restrain themselves from putting out false news.
Charan has been regularly posting video messages on the health developments of his father. 
Last Updated Sep 24, 2020, 7:25 PM IST