Coronavirus lockdown: Residents shower roses on Bengaluru Police (Video)
The people of Bengaluru thanked the city's police by showering roses, flower petals, doing 'aarthi' amid the 21-day lockdown due to the novel coronavirus (COVID-19) pandemic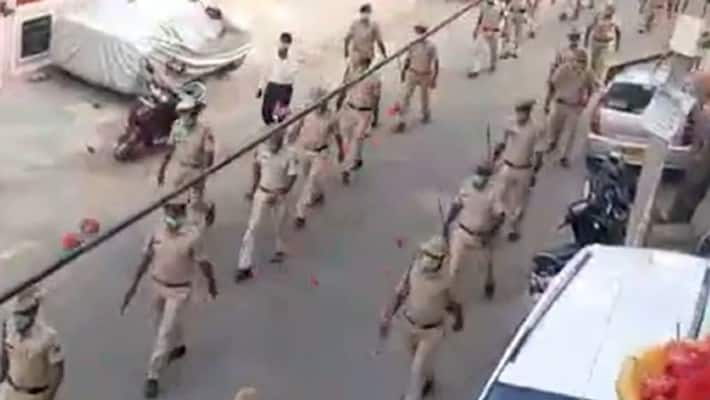 Bengaluru: The Bengaluru City Police have been working tirelessly to help the citizens during the 21-day lockdown due to the novel coronavirus (COVID-19). And, the people of Bengaluru city have shown their gratitude to the police personnel in their own unique ways.
As India continues its fight against the virus, police personnel, doctors, nurses and others have been working round the clock. During these difficult times, people have thanked them for their services.
Also read: Bengaluru Police impound over 6,000 vehicles during lockdown
Prime Minister Narendra Modi had appealed to people to observe "Janta Curfew" on March 22, and also on the same day he had urged everyone to thank doctors, nurses, police personnel, and others who are on the frontline of the battle against coronavirus.
This unique exercise at 5 pm on March 22, where people came out of their houses to clap, clang utensils, was a huge success. After this, PM Modi had thanked everyone. "The country thanked each person who led the fight against the corona virus. Many thanks to the countrymen… #JantaCurfew (sic)," he tweeted.
Also read: Karnataka Police's new technique during lockdown
On Sunday (April 5), the nation united again in the fight against the virus. Heeding to PM Modi's call, people switched off lights at their homes and lit up lamps. Even police personnel had joined in.
The same day, the Bengaluru City Police took to its Twitter account to share a short video where residents of the city are seen showering police personnel with roses when they were conducting a flag march. There were other videos too on Twitter where flower petals were showered on Bengaluru Police.
Bengaluru City Police wrote with the 58-second video, "We serve, We protect. And, will continue rising to our call of duty. Always. Humbled by your kind gesture. Thank you, Namma Bengaluru! (sic)." The video has "Vande Mataram" song sung by the legendary Lata Mangeshkar.
In another video women were seen performing "Aarthi" to police personnel and applying "tilak" on their foreheads. Reacting to this video, Bengaluru Police commissioner Bhaskar Rao wrote on Twitter, "Maam, we are humbled, give us the strength to serve you like this and earn your respect (sic)."
Last Updated Apr 6, 2020, 1:12 PM IST