Coronavirus lockdown: No, Modi government is not going to drop money from helicopters, says PIB Fact Check
PIB Fact Check has demolished another piece of fake news by a Kannada TV channel. The claim was that the Narendra Modi government would drop money from helicopters to citizens during the coronavirus lockdown. This is fake news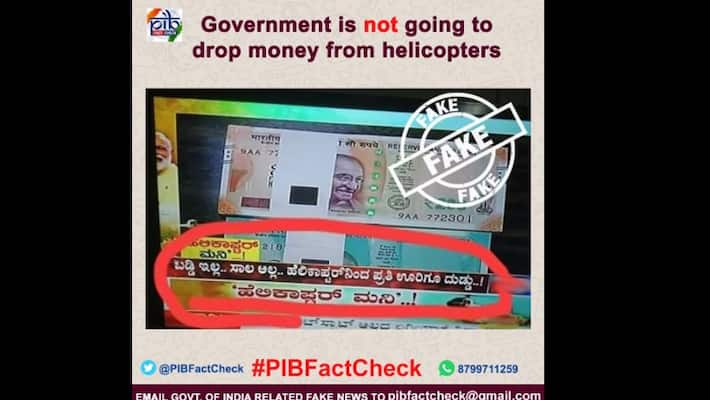 Bengaluru:
As the fight against the coronavirus (COVID-19) continues, there is another battle which the government agencies and the people are fighting — fake news.
There is no end to ridiculous claims being circulated on social media during these difficult times. Recently, a website link was shared stating that if you fill a form on it you will receive Rs 15,000 from Prime Minister Narendra Modi. Of course, this was false news.
Also read: What is Google Journalism Emergency Fund?
Now, a Kannada TV news channel based in Bengaluru has reported that the Modi government will drop money to Indians from helicopters during the coronavirus lockdown. This too is fake news.
Press Information Bureau's (PIB) Fact Check Twitter handle was quick to demolish this piece of fake news. Sharing a screenshot of the same news report, PIB Fact Check wrote, "Claim: Government is going to drop money from helicopters in every town. #PIBFactCheck: Government is going to do no such thing."
Also read: No, PM Modi is not giving every Indian Rs 15,000
PM Modi has extended the lockdown until May 3 to contain the spread of the coronavirus.
Last Updated Apr 16, 2020, 5:55 PM IST