Coronavirus: Bengaluru Metro back on track with safety measures
Bengaluru Namma Metro services are back on track with all the COVID-19 safety measures. The first set of metro trains started from Baiyappanahalli to Mysore road metro station at 9 am on September 7.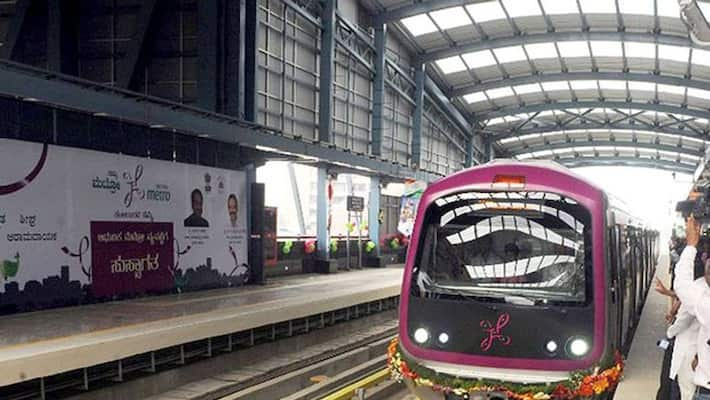 Bengaluru: After a hiatus of over 5 months, Namma Metro services resumed in Bengaluru from Monday (September 7).
Though the metro services were to begin at 8 am, the first set of trains started services at 9 am from the Baiyappanahalli metro station to the Mysore road metro station.
The Bengaluru Metro Rail Corporation Limited (BMRCL) had started preparing to get back on track 5 days ago, for the re-opening of metro services.
To ensure social distancing norms and rules and regulations set by the centre are followed, BMRCL has set up instruction boards all across metro stations along with vocal instructions being given on loudspeakers.
Face masks are a must inside the metro stations and inside the trains. Every passenger must cleanse their hands with a sanitizer provided at the entrance of each metro station.
Also read: Bengaluru: No more than 400 passengers at a time in Namma Metro
Each passenger must stand in the yellow marked individual spaces during their wait for the metro trains and inside the trains. 
For today (September 7), the 6-coach trains of Purple line will only operate from 8 am to 11 am and 4:30 pm to 7:30 pm. Each train will operate with a time difference of 5 minutes.
The green line will begin services from September 10 and will follow the same time schedule as the purple line.
The metro corporation said that the train will stop only for 60 seconds at each station and will stop for 75 seconds at interchange stations.
Last Updated Sep 7, 2020, 10:40 AM IST