'Continue to be fair to all...' Army to jawans after it claims smear campaign against Assam Rifles in Manipur
In a Twitter statement, the Army's Spear Corps conveyed that there have been deliberate attempts to tarnish the reputation of the Assam Rifles, a force dedicated to reinstating peace in the midst of ethnic turmoil in Manipur.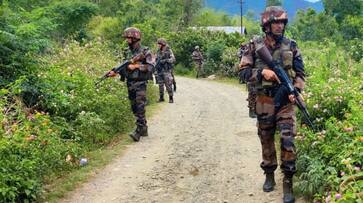 The Spear Corps of the Indian Army has told its personnel deployed in violence-hit Manipur to "continue to be fair to all and fear none". This message comes in the wake of the Manipur government's decision to withdraw troops from the crucial Moirang Lamkhai checkpoint in Bishnupur, subsequent to protests by local women against perceived acts of brutality by the Assam Rifles in the Imphal Valley.
Through a press release, the Spear Corps acknowledged the existence of orchestrated efforts to tarnish the reputation of the Assam Rifles.
"Some inimical elements have made desperate, repeated, and failed attempts to question the role, intent, and integrity of the central security forces, especially Assam Rifles, working relentlessly towards saving lives and restoration of peace in Manipur from May 3 onwards," the statement said. "It needs to be understood that due to the complex nature of the situation on the ground in Manipur, occasional differences at the tactical level do occur between various security forces. However, all such misunderstandings at the functional level are immediately addressed through the joint mechanism to synergize the efforts for the restoration of peace and normalcy in Manipur," the statement further said.
In addressing one of the recent events within the last day, the statement clarified that the Assam Rifles Battalion adhered strictly to the guidelines outlined by the Unified Headquarters, aiming to enforce Buffer Zone regulations with the goal of preventing clashes between communities. The second instance of Assam Rifles' repositioning is unrelated to them altogether.
The narrative suggests the relocation of Assam Rifles has originated from the area where an Infantry Battalion of the Army has been deployed since the crisis began in May.
Concurrently, the Manipur Police has lodged a First Information Report (FIR) against the Assam Rifles, accusing them of obstructing police duties by blocking their vehicles during a confrontation that transpired between the two groups the previous week. The FIR was officially filed on August 5, asserting that the 9th Assam Rifles prevented police vehicles from advancing along the Kwakta Gothol road in the Bishnupur district. This occurred as the police were conducting follow-up search operations on the Pholjang Road near Kwakta, related to an arms act case involving the search for Kuki militants.
Last Updated Aug 9, 2023, 11:02 AM IST