Chhattisgarh Election 2023: 'There is no competition, fight is one-sided,' says Bhupesh Baghel
Chhattisgarh Election 2023: Ahead of casting his vote, Chhattisgarh Chief Minister and Congress candidate from Durg assembly constituency Bhupesh Baghel on Friday said, "We are more than 75 seats...The fight here is one-sided; there is no competition."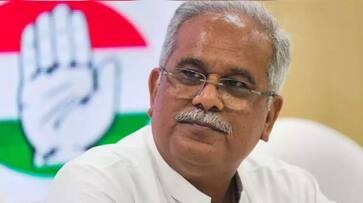 Chhattisgarh Chief Minister Bhupesh Baghel claimed that there is no competition in the state and that Congress will certainly retain power in the state. He made these remarks aged of casting his vote on Friday.  "We are more than 75 seats...The fight here is one-sided, there is no competition..." Baghel added. 
Baghel stated that his party is easily winning when he waited in queue to cast his ballot. "I would like to say, 'rishate me hum tumhare baap lagte hain,' to the BJP candidate running in my assembly," Baghel said. His remarks were meant at Vijay Baghel, his nephew, who is running against him for a BJP seat.
The Chhattisgarh Chief Minister also appealed to the people of the state to come out in large numbers and exercise their franchise. Even though Baghel has been portrayed as the face of the Congress in Chhattisgarh, he claimed that if the party is elected to power, the high command will select the chief minister.
Also Read | Telangana Election 2023: Congress releases manifesto, lists out THESE 6 guarantees
"The second phase of the assembly election on 70 seats is underway today and people must participate in this festival of democracy. Considering the welfare of farmers, youths, women and labourers, people must come out of their homes and reach polling stations to exercise their franchise in large numbers," he said.
He said their poll promises, including procurement of 20 quintals of paddy per acre from farmers at the rate of Rs 3,200 per quintal, farm loan waiver, KG (kindergarten) to PG (Post-Graduation) free education, an annual dole of Rs 10,000 to landless labourers and annual assistance of Rs 15,000 to women under 'Gruh Lakshmi' scheme, will favour the Congress in polls.
'This is the time…': PM Modi condemns civilian deaths in Israel-Palestine war; check details
It should be mentioned that polls for the second and final round of Chhattisgarh's assembly elections, which are for 70 seats, opened on Friday morning. Among the 958 contestants are Chief Minister Bhupesh Baghel, Deputy Chief Minister T S Singh Deo, eight state ministers, and four members of Parliament.
Last Updated Nov 17, 2023, 3:18 PM IST