Chhattisgarh Election 2023: BJP releases 'Modi ki guarantee 2023' manifesto; promises govt jobs, LPG cylinders
The Bharatiya Janata Party's manifesto for the Chhattisgarh assembly polls was launched by Union Home Minister Amit Shah in Raipur on Friday. The first phase, covering 20 seats, is set for November 7, 2023, while the remaining 70 seats will be contested on November 17.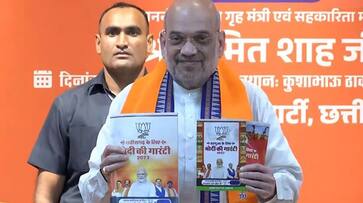 Union Home Minister Amit Shah released the BJP manifesto titled 'Modi's Guarantee for Chhattisgarh 2023' during a function here at Kushabhau Thakre Parisar, the saffron party' state office in Raipur. While releasing the manifesto in Raipur, Shah said, "I assure the people here that we will make Chhattisgarh a fully developed state in the coming five years."
The main provisions of the BJP's poll manifesto for Chhattisgarh, which was released on Friday, just four days before the first round of the assembly elections, include yearly financial assistance to married women and landless agricultural labourers, procurement of paddy at a cost of Rs 3,100 per quintal, and cooking gas cylinders for impoverished families at a cost of Rs 500.
Also Read | Telangana Election 2023: AIMIM to contest in nine Assembly constituencies, announces Asaduddin Owaisi
Filling one lakh vacant government posts in Chhattisgarh in two years and taking people of the state on a visit to Ram temple, which is being constructed in Ayodhya, are also among the promises of the opposition Bharatiya Janata Party (BJP) mentioned in the manifesto. 
Women from poor families will get cooking gas cylinders at Rs 500 each, while students will be given monthly travel allowance for going to college through Direct Benefit Transfer (DBT), the Union minister said. 
According to him, one lakh vacant government posts will be filled in two years if the BJP returns to power in the state. 
The polling in Chhattisgarh will take place in two phases. The first phase of polling for 20 seats in Chhattisgarh will take place on November 7, 2023. The remaining 70 seats in the state will go to polls on November 17.  The Legislative Assembly of Chhattisgarh is expected to adjourn on January 3, 2024. 
In the last polls, the Congress won 68 of the total 90 assembly seats, while the BJP finished a distant second at 15. The Janata Congress Chhattisgarh (J), founded by former CM late Ajit Jogi, bagged five seats and its ally Bahujan Samaj Party (BSP) won in two segments.
Telangana Election 2023: YS Sharmila won't contest polls, pledges full support to Congress
Last Updated Nov 3, 2023, 5:35 PM IST