Telangana Election 2023: YS Sharmila won't contest polls, pledges full support to Congress
The YSR Telangana Party (YSRTP) chief YS Sharmila said she will not contest the November 30 Assembly polls in Telangana and has decided to support the Congress. Addressing a press briefing here, the YSRTP chief said she has decided to extend her support to the Congress to prevent a split of votes in the polls that might benefit Chief Minister K Chandrashekar Rao.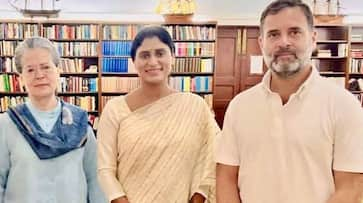 YSR Telangana Party chief YS Sharmila on Friday announced that she will not contest the upcoming assembly elections in Telangana, and has instead decided to support the Congress. The younger sister of Andhra Pradesh Chief Minister YS Jagan Mohan Reddy, stated that her party is supporting the Congress in order to prevent a vote split that may favour Chief Minister K Chandrashekar Rao in the elections.
"As you know the Telangana State stands at a crucial juncture with elections to the State Assembly scheduled on the last day of this month. People of Telangana are vexed with misrule of KCR and are all set to topple his draconian regime. In these nine-and-half years, people have witnessed how Telangana's wealth has been siphoned off due to the greed and tyranny of one family. A rich state at formation is now burdened with heavy debt, due to the massive corruption of KCR and his cronies," Sharmila said.
Also Read | PM Modi likely to carry Ram lalla to newly built Ayodhya Ram Mandir: Report
With more and more information about the corruption of Chief Minister K Chandrasekhar Rao coming to light, Sharmila claimed that it was imperative that like-minded parties work together for the benefit of Telangana's citizens.
"As per many surveys and ground reports, it has been felt that our participation in the Assembly elections will directly impact the vote share of Congress in many constituencies. Therefore, YSR Telangana Party has decided to make the sacrifice of not contesting in the Telangana Assembly elections. I am ok to take this all-important decision to step back in the larger interest of the state and to ensure the bigger cause of people is addressed," she added further.
Also Read | SC asks AAP MP Raghav Chadha to tender unconditional apology to Rajya Sabha chairperson
According to her, her party has made the "sacrifice" to put a stop to Rao's "corrupt and anti-people rule" at BRS. Telangana is scheduled to cast its ballot on November 30 and announce the results on December 3.
Last Updated Nov 3, 2023, 3:08 PM IST