Chhath Puja 2023: November 19 to be dry day in Delhi
The Delhi government, in its latest order, said that a 'dry day' will be observed in the city on November 19 on the occasion of Chhath Puja. Interestingly, the dry day in the national capital also coincides with the World Cup Finals.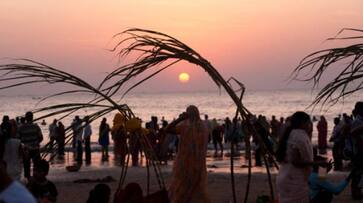 The Delhi Excise Department on Thursday announced that November 19 will be a 'dry day' in the city in view of the Chhath Puja festivities. The national capital's alcohol sales are prohibited, as detailed in a circular released by the Delhi Commissioner of Excise on Sunday. Chhath Puja will start on November 17 and conclude on November 20.
"In pursuance of the provisions of Rule 52 of Delhi Excise Rules, 2010, it is hereby ordered that the following date shall be observed as "Dry Day" in the National Capital Territory of Delhi by all L-1, L1F, L-2, L-3, L-4, L-5, L-6, L-6FG, L-6FE, L-8, L-9, L-10, L-11, L-14, L-18, L-23, L-23F, L-25, L-26, L-31, L-32, L-33, L-34 and L-35 licensees of the Excise department and opium vends located in Delhi: Pratihar Shashthi or Surya Shasthi 19.11.2023 (Chhath Puja)," the order read.
Also Read | Delhi's air quality remains in 'severe' category, respite unlikely soon
In addition, the Municipal Corporation of Delhi (MCD) has developed a 10-point plan for the efficient administration of Chhath Puja festivities, which was unveiled by the AAP-led Delhi government on Thursday. The proposal calls for a number of actions, including building ghats, installing lighting and temporary restrooms there, and more.
Delhi Minister Atishi said, "The Chhath festival is an important festival for all the people of Delhi. Many Purvanchalis live here. Our government grandly organises the Chhath festival so that they don't have to go out of Delhi. Around 1000 ghats have been made in Delhi at different places."
Atishi went on to say that efforts are underway to remove the poisonous foam from the Yamuna. "The Delhi Jal Board is spraying chemicals and enzymes to remove the toxic foam using boats, and it will be cleared in one or two days," she added on Thursday.
Also Read | 'This is the time…': PM Modi condemns civilian deaths in Israel-Palestine war; check details
Interestingly, the dry day in the national capital also coincides with the World Cup Finals. Team India will take on Australia on November 19 at the Narendra Modi Stadium in Ahmedabad.
 
Last Updated Nov 17, 2023, 12:00 PM IST