Cauvery row: Pro-Kannada activist Vatal Nagraj calls to close all national highways in Karnataka on Oct 10
Pro-Kannada activist Vatal Nagaraj intends to block Karnataka's highways on October 10 in protest against the diversion of Cauvery River water to Tamil Nadu. He calls for a march and urges MPs to resign, emphasizing the need for a peaceful resolution to the issue, which affects both states. Nagaraj stresses the importance of dialogue and avoiding confrontations.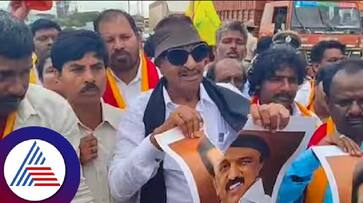 Pro-Kannada activist Vatal Nagaraj has announced plans to block all National highways in the state on October 10 in protest against the diversion of Cauvery River water to Tamil Nadu. He made this declaration during a gathering at Vidhansouda, stating their intention to block the highway near Attibele in Bengaluru.
Expressing his concern, Nagaraj complained that Tamil Nadu residents have been mistreating people from Karnataka and emphasized the scarcity of water at the KRS (Krishnaraja Sagar) reservoir. He criticized the Minister of Water Resources for what he deemed an inadequate response to the water issue.

Karnataka Bandh: Vatal Nagaraj announces 'besiege' protest at KRS dam on October 5
Nagaraj urged the people of Tamil Nadu to understand the gravity of the situation and expressed frustration at the perceived lack of action on their part. He even suggested that residents of Tamil Nadu visit the KRS reservoir to witness the water situation firsthand.
Nagaraj further announced plans for a significant march from Bengaluru to KRS on the 5th of October, aimed at protesting what he described as the wrongful actions and demands of the Tamil Nadu government. He mentioned intentions to hold a Kannada Union Mela at KRS, complete with a black flag display and protests.

'Exposes your dubious politics...' MoS Rajeev Chandrasekhar attacks Karnataka CM over his Cauvery row jibe
In a call for action, Nagaraj urged MPs to resign from their positions, suggesting that this would demonstrate strength and seriousness in addressing the Cauvery water dispute. He proposed that Prime Minister Modi intervene, and even suggested sending a team to assess the situation before political games take precedence.
Nagaraj highlighted that the issue at hand should not be turned into a political battle, as it pertains to the livelihood and well-being of the people in both states. He urged for peaceful dialogue to resolve the situation and expressed a desire to avoid any confrontations.
Last Updated Oct 4, 2023, 12:19 PM IST