'Exposes your dubious politics...' MoS Rajeev Chandrasekhar attacks Karnataka CM over his Cauvery row jibe
Union Minister Rajeev Chandrasekhar accused Siddaramaiah of practising questionable politics, emphasizing that the Karnataka chief minister never consulted anyone when releasing water meant for farmers.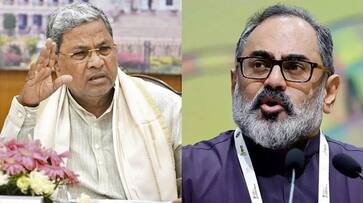 Union Minister Rajeev Chandrasekhar has lashed out at Karnataka Chief Minister Siddaramaiah for questioning the alleged silence of Members of Parliament belonging to the Bharatiya Janata Party from Karnataka on the Cauvery issue. Taking to micro-blogging platform X (formerly Twitter) hours after Siddaramaiah claimed that elected representatives from the state are 'merely justifying the PM's inaction', Chandrasekhar said that the Congress chief minister was exposing his 'dubious politics'.
He said, "You may think this is a smart strategy to put the responsibility of your government on MPs and the government of India, but it just exposes your dubious politics. You never consulted anyone, when you released precious water meant for our farmer brothers under the pressure of your UPA/INDI alliance partner DMK and your politics."
He further said, "You were voted in after talking of guarantees. Stop blaming others and act to guarantee the lives and livelihoods of farmers, our agricultural economy and the people of Karnataka and Bengaluru. Don't betray the people of Karnataka at the altar of corrupt and opportunistic Congress politics. We will not let you. Stop lying and stop distracting and act to guarantee the lives of our farmers. Now!"
On Friday, Chief Minister Siddaramaiah announced the intention to file a review petition with the Cauvery Water Management Authority (CWMA) and the Supreme Court on September 30. The petition's grounds assert the unavailability of water, rendering the release of water impossible.
Earlier in the day, the CWMA supported the directive issued by its subsidiary body, the Cauvery Water Regulation Committee (CRWC), which instructed Karnataka to release 3,000 cusecs of water to Tamil Nadu.
Simultaneously, a Karnataka bandh, organized by pro-Kannada organizations and farmers' associations, protesting the release of Cauvery river water to Tamil Nadu, resulted in the detention of hundreds of protesters. The Bengaluru Police took into custody over 700 demonstrators who attempted to block roads during the day-long shutdown.
The 'Kannada Okkoota'-called Karnataka bandh, opposing the release of Cauvery river water to Tamil Nadu, disrupted normal life in Bengaluru and other southern regions of the state on Friday. In response, authorities imposed prohibitory orders under Section 144 of the Criminal Procedure Code in Bengaluru Urban, Mandya, Mysuru, Chamarajanagara, Ramanagara, and Hassan districts. Additionally, schools and colleges in these areas were declared closed.
Kannada actors and actresses, under the leadership of Shiva Rajkumar, convened a protest meeting in Bengaluru on Friday to support the Karnataka bandh organized by farmers and pro-Kannada groups in response to the Cauvery water dispute. The meeting witnessed the participation of Darshan, Upendra, Dhruva Sarja, Murali, Vijaya Raghavendra, Pooja Gandhi, Shruti, Bhavana, as well as veteran actor Srinath and noted producer S A Chinne Gowda, among others.
Last Updated Sep 30, 2023, 12:34 AM IST