Calcutta high court shuts doors after driver uses official car to transport COVID-19 positive mother
The proceedings of Calcutta high court was suspended indefinitely after the mother of a driver of a court's car tested positive for coronavirus.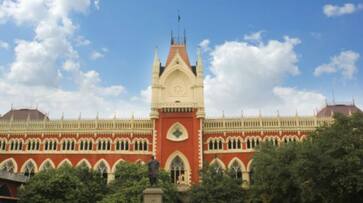 Kolkata: Coronavirus pandemic has brought all Calcutta high court related work to a halt as it has been suspended from Thursday (April 30). Though some important cases were to be heard in four days between May 4 and May 15, these proceedings too have also been suspended for the time being.
Rai Chatterjee, the registrar general of the Calcutta high court, issued a notice in this regard on Wednesday night. Chief Justice TB Radhakrishnan is reported to have taken the decision as an emergency measure.
What was the emergency?
During the lockdown, a vehicle was arranged for the travel of some officers of Kolkata's Alipore court. It was recently found that the mother of the driver of that vehicle recently tested positive for coronavirus. She is now being treated at AMRI Hospital in Salt Lake.
Allegedly, the driver took his mother to hospital in the court's car. Later, he used the same vehicle to transport officers to and from Alipore Court and Calcutta high court more than once.
The matter first came to the notice of the Alipore court on April 27. After that, a special order was issued and the Alipore court was closed from April 29. All the officers and staff of the court, who travelled in that vehicle, were instructed to go into self-quarantine. The Calcutta high court was then informed about the matter.
After a meeting with senior judges of the high court on Wednesday afternoon, Chief Justice TB Radhakrishnan decided to suspend all the proceedings other than the special bench of the Calcutta high court indefinitely.
According to the ICMR guidelines, people who come in direct and indirect contact with a coronavirus positive patient must stay in quarantine for at least 14 days.
The officers traveling in the vehicle are all at risk of being infected. Many more people have come in contact with them in the court premises. Considering this, the court has taken the decision to shut down.
The fire brigade sanitised the court premises after the activities were suspended on Thursday.
Last Updated May 1, 2020, 6:17 PM IST