'Price of appeasement politics...' BJP slams CM Pinarayi Vijayan over Kalamassery blasts
The BJP has asserted that Kerala has transformed into a state where incidents of attacks and explosions "persistently happen in public gatherings." They pointed to Sunday's explosion as a failure on the part of the state's home department under the leadership of Chief Minister Pinarayi Vijayan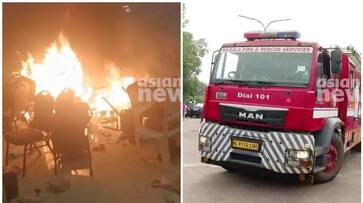 The Bharatiya Janata Party has lashed out at Kerala Chief Minister Pinarayi Vijayan in the aftermath of the blasts at the convention of Jehovah's Witnesses in Kalamassery in Kerala's Ernakulam district. The party claimed that Kerala had now become a state where attacks and explosions "continuously occur in crowds" and that Sunday's blasts were a failure of the state home department under the Pinarayi Vijayan government.
Kalamassery blasts: Traces of IED found, explosives likely planted within tiffin box
Union Minister Rajeev Chandrasekhar took to X (formerly Twitter): "Price of appeasement politics of Cong and CPM will always be borne by innocents of all communities - That is what history has taught us. Brazen appeasement politics - shameless even by Cong/CPM/UPA/INDI alliance standards to invite Terrorist Hamas to spread hate & call for "Jihad" in Kerala. This is the height of irresponsible madness politics. Enough!"
Union Home Minister Amit Shah has spoken with the Kerala Chief Minister to assess the situation following the explosion. While Chief Minister Vijayan has assured that the situation is being closely monitored, the BJP has accused the LDF government of pursuing appeasement politics, which they consider to be a dangerous approach.
Former Union Minister and BJP leader Alphons KJ expressed his concern, describing the situation as extremely critical. He emphasized that he had been warning for some time about the presence of support for terrorism from both left and right factions in Kerala. According to him, this issue has persisted in Kerala for an extended period, and he believes the state is currently grappling with terrorism that needs to be addressed urgently.
MoS for External Affairs and Parliamentary Affairs, V Muraleedharan, pointed out that central agencies have already initiated an inquiry into the incident. He expressed confidence that these agencies will delve into the details of the incident, identify the causes and responsible parties, and provide a comprehensive investigation report. He also appealed to the state government to offer various forms of medical assistance to the injured individuals. He stated that further steps would be determined based on the findings of the investigations and highlighted the involvement of central agencies, including the National Investigation Agency (NIA) and National Security Guards (NSG).
Another BJP leader and party IT Cell head, Amit Malviya, criticized Kerala CM Pinarayi Vijayan for appearing more concerned about Israel's actions against Hamas than addressing the targeting of Jehovah's Witnesses, a Christian movement, in Kochi. Malviya connected this incident to a previous situation where the Catholic Church condemned efforts to justify Hamas. He referred to the IUML's solidarity program, which featured a speech by former Hamas chief Khaled Mashal in Kozhikode, and mentioned that Shashi Tharoor's speech during the program had been contentious and controversial.
The explosions occurred at the Zamra International Convention & Exhibition Centre in Kalamassery during a Jehovah's Witnesses prayer meeting, attended by over 1,000 people. The incident took place on the last day of the three-day meeting, which began on October 27. This incident coincided with political tension in Kerala following a virtual address by Hamas leader Khaled Mashal during a pro-Palestine protest.
Kalamassery blasts: Alerts issued in Delhi and Maharashtra, security stepped up
Last Updated Oct 29, 2023, 2:09 PM IST