Kalamassery blasts: Traces of IED found, explosives likely planted within tiffin box
A team from the National Investigation Agency (NIA) has arrived at the site where several explosions took place. Initial reports indicate that low-intensity explosives were likely used in the attack, which according to initial investigation, seems to be a planned attack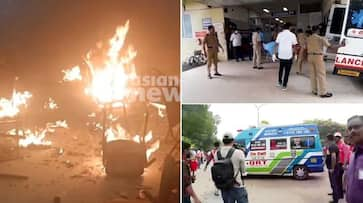 In growing indications of a pre-planned attack, an Improvised Explosive Device (IED) planted within a tiffin box reportedly caused the blast during the convention of Jehovah's Witnesses at Kalamassery in Kerala's Ernakulam district which claimed one person's life and left 37 others injured. Kerala DGP Sheikh Darvesh Sahib confirmed that preliminary investigations had shown that an IED had been used.
Kalamassery blasts: NIA team at the spot, traces of low-intensity explosive found
A National Investigation Agency (NIA) team is at the location where multiple explosions occurred. According to reports, preliminary information suggests that low-intensity explosives were used in these blasts.
In response to the explosions, Union Home Minister Amit Shah directed anti-terror agencies, including the NIA and the National Security Guards, to dispatch teams to Kerala to support the state government after the explosion at the convention centre.
Meanwhile, Kerala's Leader of Opposition and state Congress President, VD Satheesan, informed the media that there were two explosions at the convention centre, leading to a subsequent fire. Regrettably, one woman lost her life, while 37 others are currently hospitalized. Among those hospitalized, at least six patients are in critical condition.
The explosion occurred at 9:40 a.m. in the church, with a congregation of 2,500 people at that time. This incident followed a day after former Hamas leader Khaled Mashal delivered a virtual address to a gathering in Malappuram, located in northern Kerala, where he urged Jamait-e-Islami activists to take action against those who do not share their beliefs.
Kerala government issues alert in state after Kalamassery explosion
Kalamassery explosion: Kerala government orders doctors on leave to return immediately
Last Updated Oct 29, 2023, 1:12 PM IST