Between air pollution and earthquake tremors: Delhi's dual crisis sparks meme fest
Delhi's rising air pollution coupled with constant earthquake tremor jolts has become a hot topic of discussion on social media, with several users posting memes to highlight the national capital's dual crisis.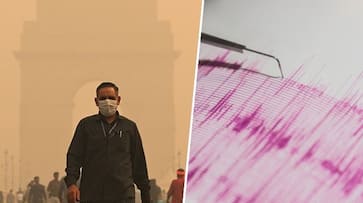 A powerful earthquake, the second in three days, struck Nepal, triggering strong tremors felt across Delhi and North India. The quake measured at 5.6 magnitude and hit Nepal at a depth of 10 km, according to the National Center for Seismology. The agency posted details of the seismic event, citing the location and time of the occurrence.
This recent earthquake comes just after a previous one, which struck Nepal with a magnitude of 6.4 on Friday night. The earlier tremor claimed the lives of at least 157 individuals in Nepal, leaving a significant impact on the region.
Also read: Shocking! Dramatic drone footages reveal Delhi choking on toxic haze (WATCH)
As news of the earthquake spread, social media, particularly X, became an outlet for people to confirm and discuss the seismic event. Amidst the ongoing air pollution crisis in Delhi, netizens commented on the unfortunate convergence of earthquake tremors and severe pollution, showcasing a mixture of concern and dark humour.
Twitter users expressed their sentiments, with one individual highlighting the challenges faced by Delhi residents: "I feel bad for Delhi peeps! It's either pollution or earthquake. There's no in between."
Another user pointed out the resilience of Delhi and NCR inhabitants, facing multiple challenges simultaneously, such as earthquakes, pollution, and even the odd-even vehicle restriction measures.
Delhi has been battling severe air pollution, with a thick blanket of toxic smog shrouding the city for nearly a week. This dire situation has prompted authorities to take emergency measures, including the closure of schools to protect residents from hazardous air quality.
In the midst of these serious discussions, the meme brigade on social media added a lighter touch, sharing humourous takes on the frequency of earthquakes in the city. Humorous posts emerged, depicting people rushing to Twitter to check for earthquake updates, emphasizing the online reaction to the seismic activity.
Also read: Why a morning walk or jog in polluted Delhi poses a health risk
The situation in Delhi and North India remains a delicate balance between coping with natural disasters like earthquakes and the ongoing environmental crisis, symbolised by the persistent pollution woes affecting the region.
Here's a look at the memes that flooded X:
Last Updated Nov 6, 2023, 6:13 PM IST