Bengaluru Violence: Detained suspect has links with Al-Hind, 2016 RSS activist murder case accused
The CCB which arrested accused Samiuddin in connection with the Bengaluru Violence case, reportedly, claimed that he was in touch with Al-Hind group which was responsible for RSS activist Rudresh's murder in 2016.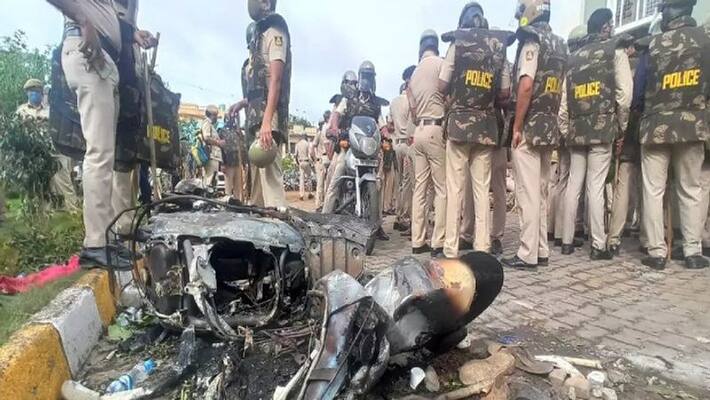 Arrested on Saturday night in connection with Bengaluru violence, accused Samiuddin is said to have been in touch with a group Al Hind and an accused in the case related to the murder of an RSS activist from Shivajinagar in 2016.
Reports quoted Joint Commissioner of Crime Sandeep Patil saying that Samiuddin was in touch with an accused in RSS activist Rudresh murder case.
Also watch: Bengaluru Violence: No CBI investigation; will teach SDPI and PFI a lesson, says Karnataka deputy CM
This apart, the report claimed Samiuddin also maintained contact with members of the Al-Hind terrorist group.
"He'll be taken into custody and a probe will be conducted," the JCP was quoted as saying.
Recently, Karnataka home minister Basavaraj Bommai had mentioned the presence of such a terror group in the state.
Also watch: Jacqueline Fernandez to support nutritional needs of 2 villages in Maharashtra
Earlier, deputy CM Ashwathnarayana had contemplated steps to ban SDPI and PFI for targeted killings. He held the power struggle between SDPI and Congress responsible for arson and vandalism in Bengaluru East in which the house of Congress MLA Akhanda Srinivas Murthy was burnt.
At present the Central Crime Branch has taken over the investigation and has arrested over 350 members so far.
Last Updated Aug 17, 2020, 4:25 PM IST