Bengaluru violence: Cops nab Congress corporator's husband, BJP taunts 'Cong ke Haath B'lore Rioters Ke saath'
As the police arrest the husband of Congress corporator Kaleem Pasha, BJP has taunted the Congress, saying 'Cong ke Haath B'lore Rioters Ke saath'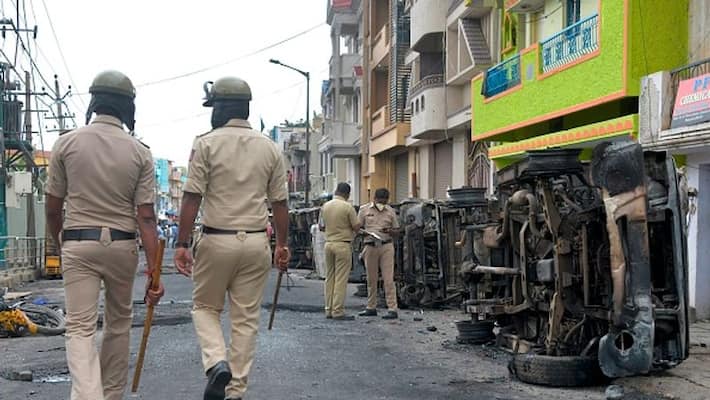 Bengaluru: The violence in Bengaluru in which a mob attacked policemen and their vehicles and burnt down the house of Congress MLA Akhanda Srinivasa Murthy has dented the reputation of the garden city. 
While the police continue with their investigations and have arrested Kaleem Pasha, husband of Congress Corporator Irshad Begum, the BJP has blamed the grand old party for the fiasco.
In a tweet put out by BJP spokesperson Prakash S, he has said, "Cong ke Haath B'lore Rioters Ke saath"Wt d arrest of Kaleem Pasha husband of Cong Nagavara  Corporator Cong role in d riots emerge clearly.vl d Cong expel him now r defend him? @KiranKS @niku1630 @Vishwasshettre @Sharada_naik" 
The police have arrested 206 suspects till date and have formed four teams to investigate the matter thoroughly. 
The arson and rioting began after the mob took offence to a post, allegedly derogatory to Prophet Muhamad. 
It is also being said that the mob went to the police station to lodge a police complaint, but the police asked them to give a complaint in writing. 
The delay in filing an FIR is said to be the cause for the mob going berserk. 
Investigations have also pointed fingers at a possible orchestration of the entire event. Reports add that the entire event was meticulously planned, for one can't mobilise a crowd in just a few hours. 
The police are also investigating if the post was just an ostensible reason to run riot. The real reason, it is being touted, is that the mob wanted to 'avenge' the Ram Mandir verdict in favour of Hindus, the CAA enactment giving citizenship to persecuted minorities of Pakistan, Bangladesh and Afghanistan and the bhumi pujan performed by the Prime Minister Narendra Modi on August 5. 
Reports also add that the mob had tried to create such riots, at least on 3 earlier occasions.  
Last Updated Aug 14, 2020, 2:25 PM IST