Bengaluru: Two Padarayanapura suspects test positive for COVID-19
Sources said that the samples of the two had been collected before they were arrested and the tests returned positive on Thursday evening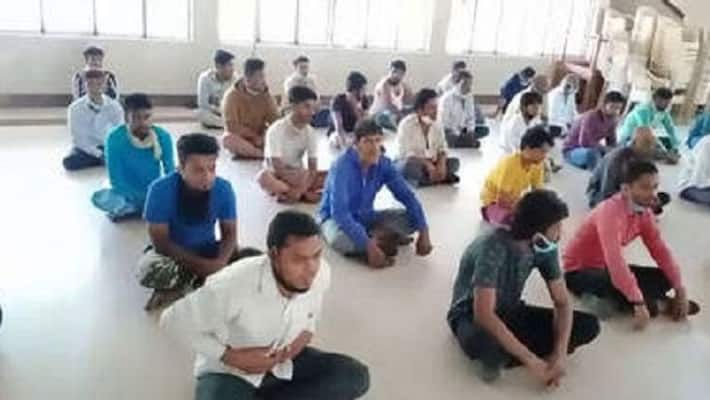 Bengaluru: Among the 120-odd arrested for their involvement in violence in Bengaluru's Padarayanapura on Sunday, two men have tested positive for COVID-19, said sources in the Karnataka Prisons Department. 
The Bengaluru Police had arrested 126 people and shifted them to the Ramanagara jail as the Bengaluru Central Prison at Parappana Agrahara already houses over 4,000 undertrials and convicts. 
The two suspects have been shifted to a hospital in Bengaluru. 
Sources said that the samples of the two had been collected before they were arrested and the tests returned positive on Thursday evening.
Also read: Coronavirus: Karnataka reports 16 new COVID-19 cases
"Now, the police personnel, the prison staff and the other accused need to be identified and quarantined," an official said.
Over 100 men including Firoza, a lady don attacked health care workers on April 19 when a team of health workers reached their doorstep during the tracing of secondary contacts of those who tested COVID-19 positive. 
The team of health workers was not allowed to do the job in the area by some local youths. The tents set up by the health workers were also vandalised while the workers were manhandled and driven out of the area. Within a few hours, Bengaluru Police arrested 54 people for not cooperating with health workers including one woman. 
However, the mastermind behind this attack, Imran, is still on the run. 
Meanwhile, former Karnataka chief minister HD Kumaraswamy reacted to the reports and tweeted, "I had warned the government in the past too regarding this but my words went unheeded. Because of this Ramanagara has got coronavirus. Along with the two who have tested positive, seven or eight others were also transported." 
He also threatened that an intense protest would be launched if immediate action is not taken.
He also said that Ramanagara jail should be quarantined along with the police, security and administrative personnel in the jail.
Last Updated Apr 24, 2020, 9:50 AM IST