Bengaluru road naming row: DK Shivakumar takes on BBMP over delayed honor for Virat Kohli
Deputy CM Shivakumar intervenes as BBMP delays naming Bengaluru roads after Puneeth Rajkumar and Virat Kohli. Amaresh advocates for Hombegowda Nagar's BTS road to honor Puneeth Rajkumar and the 8th main road for Virat Kohli. The petition, aiming to immortalize these figures, prompts Shivakumar's involvement for a resolution after a year of inaction.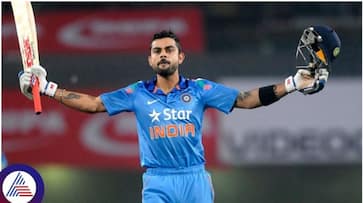 In a move to honour renowned figures, a letter was sent to the Bruhat Bengaluru Mahanagara Corporation (BBMP) urging the naming of a road in Bengaluru after international cricketer and Royal Challengers Bangalore (RCB) player Virat Kohli. However, DK Shivakumar has complained against BBMP for not taking any action regarding this matter. 
Deputy Chief Minister D.K. Shivakumar has been approached, complaining against the BBMP's delay in naming a road after Karnataka Ratna Puneet Rajkumar and international cricketer Virat Kohli. Shivakumar demanded action, expressing dissatisfaction with BBMP officials for not addressing the naming of roads after Karnataka Ratna Puneeth Rajkumar and Virat Kohli.

Puneeth Rajkumar 2nd death anniversary: Rakshit Shetty, Kichcha Sudeep, Radhika Pandit and more remember Appu
Amaresh spoke to the media, advocating for the naming of the BTS road in Hombegowda Nagar Ward-145 of Chikkapet Assembly Constituency as the 'Karnataka Ratna Puneeth Rajkumar Road'. Additionally, she proposed naming the 8th main road of this ward after cricketer Virat Kohli. 
A request was submitted to the BBMP's Administrative Officer on the 22nd of 2022, seeking a decision and permission in this matter. Amaresh expressed dismay over the lack of action despite a year passing since the request was made.

ODI World Cup 2023, India vs Netherlands preview: Will Virat Kohli score historic 50th ODI century?
Highlighting the intention behind the petition, Amaresh clarified that the objective was not to name a road after their family or lesser-known individuals. Rather, it aimed to immortalize the names of two significant figures in the country. She emphasized Puneeth Rajkumar's standing as the finest actor the nation has seen and praised Virat Kohli for his remarkable contributions to international cricket and his long-standing association with the Royal Challengers Bangalore team in the IPL.
The proposal to name roads after these two achievers aims to set their achievements and ideals as role models for today's youth, ensuring their legacies endure. The delay in action by the corporation over the past year has prompted Deputy Chief Minister DK Shivakumar to intervene, seeking a resolution in this matter. This move aims to commemorate and celebrate the achievements of these distinguished individuals in Bengaluru.
Last Updated Nov 11, 2023, 5:33 PM IST