ODI World Cup 2023, India vs Netherlands preview: Will Virat Kohli score historic 50th ODI century?
India faces the Netherlands in their ODI World Cup 2023 clash on Sunday, with all eyes on batting icon Virat Kohli who is one century away from breaking Sachin Tendulkar's record and score a historic 50th ODI century.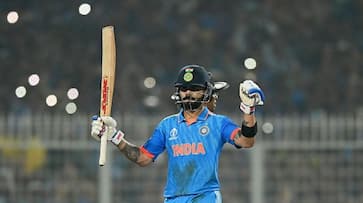 The Indian cricket team, on an impressive streak in the ODI World Cup 2023, has navigated flawlessly through their authoritative run in the showpiece tournament so far. In their final league game against the Netherlands, the marauding Indians are poised to continue their dominance, with batting icon Virat Kohli having a golden opportunity to achieve his 50th century at his spiritual home Bengaluru on Sunday.
Despite having already secured a place in the semifinals, India faces the eliminated Netherlands in a fixture that might appear inconsequential. However, the significance of World Cup matches transcends mere academic considerations. In the relentless pursuit of ultimate glory, teams, including India and the Netherlands, strive to better their best in every game, ensuring that each encounter holds its own importance on the grand stage of the tournament.
India, aiming to sustain their momentum, is unlikely to make significant changes to their playing eleven in the upcoming match against the Netherlands. In the ever-evolving landscape of cricket, where outcomes and statistics hold substantial weight, the team is also focused on achieving specific goals against the Netherlands.
Cricket, inherently driven by results and numerical achievements, adds an extra layer of excitement to the game as an approaching historic personal milestone becomes a focal point. Beyond individual achievements, the significance of this milestone resonates with the team, contributing to the overall importance of the match from both personal and collective perspectives.
Also read: 'To be honest...': Pakistan skipper Babar Azam's take on Indian hospitality during ODI World Cup 2023 (WATCH)
Virat Kohli reached a significant milestone when he equaled Sachin Tendulkar's record of 49 ODI hundreds during the match against South Africa in Kolkata. The anticipation now surrounds his pursuit of the elusive 50th century.
Despite the mounting expectations, Kohli may opt to insulate himself from external pressures, focusing on the task at hand — consistently contributing with the bat. The desire for his 50th century at his IPL home has grown, adding an extra layer of significance to the impending achievement.
In the ongoing ODI World Cup 2023, Kohli has amassed an impressive 543 runs, leading the Indian batting chart. This marks the first instance of Kohli surpassing the 500-run mark in a World Cup tournament. Contrasting with his previous World Cup performances — 282 runs in 2011, 305 in 2015, and 443 in 2019 — Kohli has taken a prominent role this time, with Tendulkar, Shikhar Dhawan, and Rohit Sharma being the leading run-scorers in past editions.
As India heads into their last league game, Kohli aims to avoid any slip-ups, using this match as a preparation ground to regain sharp form ahead of the semifinals. The week-long gap following the match against South Africa provides an opportunity for Kohli to fine-tune his skills and approach the crucial knockout stage at his best.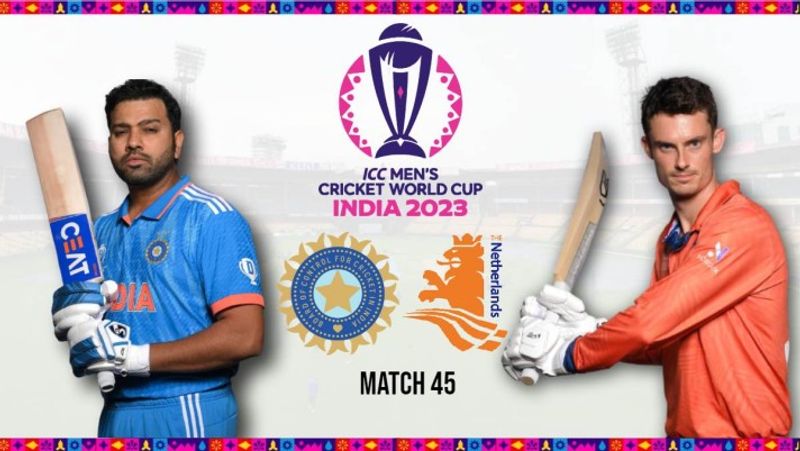 From the team's perspective, there is a keen interest in witnessing some notable contributions from Suryakumar Yadav in the upcoming match. So far, Yadav has scored 85 runs in four matches, maintaining an average of 21.25.
Yadav stands as the sole missing piece in the Indian lineup, where other key batters have all managed to secure at least one half-century. This aligns with his relatively modest performance in ODIs, and his entry into the playing eleven was prompted by the injury-related absence of Hardik Pandya. However, the Mumbai batsman has not fully capitalized on the opportunity yet, and the match against the Netherlands presents a favorable chance for him to rectify this anomaly.
Simultaneously, the Indian batting at the top order exhibits a minor glitch, which has somewhat gone unnoticed amid their remarkable eight consecutive wins in the tournament.
Rohit Sharma and Shubman Gill, India's openers, have formed three fifty-plus partnerships during the tournament. However, in the remaining five matches, their partnerships were short-lived.
In the three games where they found success, Rohit and Gill started aggressively, putting considerable pressure on the opposition. Notably, they scored 88 runs in 12.4 overs against Bangladesh, 71 in 11.1 overs against New Zealand, and 62 in 5.5 overs against South Africa.
Contrastingly, in the other five matches, their partnerships were cut short at 5, 32, 23, 26, and 4. The team's thinktank aims for Rohit and Gill to extend the impact of their partnerships, and the match against the Netherlands, without undermining their opponent, provides an ideal opportunity for them to achieve this goal.
Also read: Gratitude exchanged: Indians thank Afghanistan for spirited show, Afghans applaud hospitality post WC exit
On the bowling front, India has experienced relatively few issues, with the three pacers and two spinners consistently delivering solid performances.
Jasprit Bumrah, Mohammed Shami, and Mohammed Siraj have made scoring runs a challenging task for opposition batters. However, the team management might appreciate a bit more consistency in line and length from Siraj.
Nevertheless, this highly efficient five-man bowling unit is geared up for a final rehearsal before the crucial last-four match, which could potentially be against New Zealand in Mumbai.
Shifting focus to the Dutch team, they anticipate providing some challenges to the formidable Indian side.
Despite having capable bowlers in Logan Van Beek, Bas de Leede, and Paul van Meekeren, the smooth Chinnaswamy Stadium pitch might pose a significant challenge for them in containing the strong Indian batting lineup.
The top-order batsmen of the Dutch team, including Teja Nidamanuru, Max O'Dowd, and Wesley Barresi, have encountered difficulties in scoring runs during this tournament. Coping with the well-coordinated Indian bowling attack could prove to be a daunting task for them.
Squads:
India: Rohit Sharma (c), Shubman Gill, Virat Kohli, Shreyas Iyer, KL Rahul, Ravindra Jadeja, Shardul Thakur, Jasprit Bumrah, Mohammed Siraj, Kuldeep Yadav, Mohammed Shami, Ravichandran Ashwin, Ishan Kishan, Prasidh Krishna, Suryakumar Yadav.
Netherlands: Scott Edwards (c), Max O'Dowd, Bas de Leede, Vikram Singh, Teja Nidamanuru, Paul van Meekeren, Colin Ackermann, Roelof van der Merwe, Logan van Beek, Aryan Dutt, Ryan Klein, Wesley Barresi, Saqib Zulfiqar, Shariz Ahmad, Sybrand Engelbrecht.
Match starts at 2 PM.
Last Updated Nov 11, 2023, 3:14 PM IST