Bengaluru mishap: Collision claims lives of BSF cook, youtuber in Yelahanka
A tragic two-wheeler collision in Bengaluru, under Yelahanka traffic police jurisdiction, claimed the lives of BSF employee Sudhakar and YouTuber Gani. Sudhakar, not wearing a helmet, died instantly while leaving the BSF compound after his shift. Gani, known for promoting traffic safety, succumbed to his injuries at a private hospital. An investigation is underway, and both victims were not wearing helmets at the time of the accident.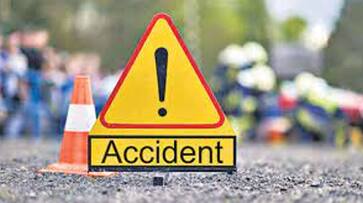 In a tragic incident that unfolded under the jurisdiction of the Yelahanka traffic police station in Bengaluru, two lives were lost in a late-night two-wheeler collision. The accident occurred around midnight, claiming the lives of Sudhakar and Gani, where Gani was a YouTuber and Sudhakar was a cook at BSF.

Sudhakar, an employee of the Border Security Force (BSF), had just completed his work shift and was exiting the BSF compound when the collision transpired. Sadly, he was not wearing a helmet at the time of the accident, which resulted in his immediate demise.

Bengaluru: Mother and child killed in multiple vehicle pileup on Horamavu ORR
The injured, including Gani, were rushed to a nearby private hospital for medical attention. Gani succumbed to his injuries while receiving treatment at the hospital. Their bodies have been transferred to Yelahanka Hospital for postmortem examinations, and their families have been informed.

BREAKING: Accident claims lives of 13 people, including child, on NH44 near Chikkaballapura
The collision took place between 11:30 and 12 o'clock that night, leaving the authorities to launch a formal investigation. It is reported that "Gani" was a popular YouTuber who primarily focused on safety and quality aspects of vehicles and promoted awareness about traffic rules through his YouTube channel.
Ironically, on the night of the accident, both Sudhakar and Gani failed to adhere to the safety measure of wearing helmets. The collision occurred in the backdrop of the night, where "Gani" was driving at high speed, and Sudhakar was exiting the BSF compound.
Last Updated Oct 29, 2023, 11:12 AM IST