Bengaluru Orphanage Shocker: NCPCR finds 200 orphans living in pathetic conditions
NCPCR's surprise inspection at an unregistered Bengaluru orphanage revealed overcrowding, poor living conditions, limited education, and lack of recreational facilities for around 200 children. Concerns arise about their welfare, prompting an inquiry and a demand for a detailed report from Karnataka's Chief Secretary. Trust members deny the allegations, inviting further inspection.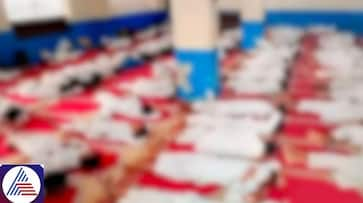 The National Commission for Protection of Child Rights (NCPCR) conducted an unannounced inspection at Darul Uloom Sayyadiya Yatim Khana, an unregistered orphanage in Bengaluru, uncovering a series of concerning findings.
Reports from the inspection revealed that approximately 200 orphaned children were residing at the orphanage. Shockingly, eight children were confined within a single 100-square-foot room, while 40 others lived in similarly cramped conditions across five rooms. Additionally, 16 children were found living in the corridor, with the remaining 150 children utilizing two mosque halls for sleeping after evening prayers.

JDS slams Karnataka government over land use and power sourcing during Mekedatu yatra
The children's routine predominantly involved Islamic religious education conducted within the mosque halls throughout the day, neglecting formal schooling. Furthermore, there were no recreational amenities such as play equipment or access to television. The environment seemed restrictive, with children exhibiting fear and hesitation upon the arrival of the Maulvi, often standing still and closing their eyes.
The living conditions reflected a stark reality resembling a medieval lifestyle. Children woke up as early as 3:30 AM for Madrasa studies, engaging in activities until the afternoon nap and then resuming training until nightfall, interrupted only for prayer breaks throughout the day. The lack of separate spaces for dining, resting, or entertainment forced the children to confine themselves to the mosque premises.
It is interesting to know that despite the orphanage's substantial property holdings, with a separate building housing a school, yet the orphaned children were allegedly not allowed access.

BBMP set to draw norms for PGs in Bengaluru over commercialisation concerns
These distressing revelations prompted concerns about the children's welfare and education. The NCPCR took swift action, issuing a notice to the Chief Secretary of Karnataka, demanding a detailed report on the situation.
While the National Children's Commission initiated an inquiry, the Darul Uloom Sadhiya Trust member Muisin denied the allegations, asserting that the institution did not follow a Taliban-style education system. Muisin invited inspections to verify the allegations made by the NCPCR.
Last Updated Nov 21, 2023, 11:53 AM IST