Bengaluru bandh on Sept 26 against Cauvery water release to Tamil Nadu
Protests against Cauvery water release to Tamil Nadu continue in Karnataka, with a city-wide shutdown planned in Bengaluru on September 26. Kuruburu Shanthakumar, State President of the Sugarcane Growers' Association, is leading the protest, demanding an immediate halt to water release. He calls for unity and support from various sectors, including IT companies and the film industry.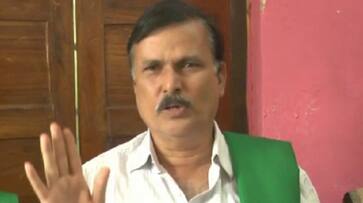 Protests over the Cauvery water dispute have gained attention across the state, with Kuruburu Shanthakumar, the State President of the State Sugarcane Growers' Association, calling for a city-wide shutdown in Bengaluru on September 26. The protest is against releasing the Cauvery River water to Tamil Nadu.
On September 26, there will be a rally from Town Hall to Mysuru Bank Circle, and Shanthakumar has asked schools and colleges to give students a day off. He also urged IT companies in Bangalore to let their employees take the day off voluntarily.

Karnataka: Water release from Kabini and KRS dam, started from Monday
The main demand of the protest is to immediately stop sending water to Tamil Nadu. Shanthakumar stressed that the central government should not ignore this important issue. He pointed out that the Cauvery water problem in Bangalore has not received enough attention, despite Mandya previously holding a shutdown. He is confident about the Bengaluru shutdown on Tuesday.
Shanthakumar has called on the Board of Film Commerce and members of the film industry to support the shutdown. He emphasized the need for unity in the fight for Cauvery water rights and urged everyone to get involved.

Bengaluru residents cannot receive water from Cauvery due to water shortage: Minister G Parameshwar
He also mentioned discussions with the Chief Minister and Darshan Puttannaiah, where they highlighted the importance of addressing the water release issue. Shanthakumar noted that Karnataka's Members of Parliament lack unity compared to Tamil Nadu's MPs, and he called for a special session to pass a resolution.
He stated his plans to block state and national highways on September 29, coinciding with the next hearing on September 26. This protest will involve 15,000 farmers and their cattle. He appealed to actors in the film industry to prioritize the Cauvery issue and encouraged Bengaluru's residents to become more actively involved. Badagalapura Nagendra, President of the State Farmers' Association, also called on ITBT employees, writers, actors, and the public to support the protest for their own benefit.
Last Updated Sep 23, 2023, 2:38 PM IST