With Prime Minister Narendra Modi openly speaking out against the atrocities being carried out on the people of Balochistan, protesters in the region lately have been spotted carrying pictures of the Indian PM along with other top Baloch leaders.

According to reports, Baloch 'freedom fighters' came out in open in support of PM Modi's statement. It is reported that during these protests the freedom fighters raised the Indian national flag and held a demonstration in support of Indian PM Modi's stand on human rights violations in Balochistan. 

The protestors carried framed pictures of Narendra Modi and deceased Baloch martyr Akbar Bugti. The masked protesters carried placards reading 'Stop Baloch Genocide' and were also seen trampling the Pakistani flag.

AN ANI report said that for the last four days there have been a series of protests in Sui, Dera Bugti, Jafarabad and Nasirabad among other locations in Balochistan.

Back on Monday, the Pakistani government registered cases against separatist Baloch leaders Brahamdagh Bugti, Harbiyar Marri and Banuk Karima Baloch for supporting Indian Prime Minister Narendra Modi's statements on Balochistan.

On August 15, in the Independence Day speech in a first for any Indian Prime Minister, Narendra Modi referred to human rights abuses in Balochistan and Pakistan-occupied Kashmir.
"The world is watching. People of Balochistan, Gilgit, Baltistan and Pakistan-occupied Kashmir have thanked me a lot in the past few days. I am grateful to them," Modi said, referring to his comments last week on excesses in Pakistan's Balochistan and PoK.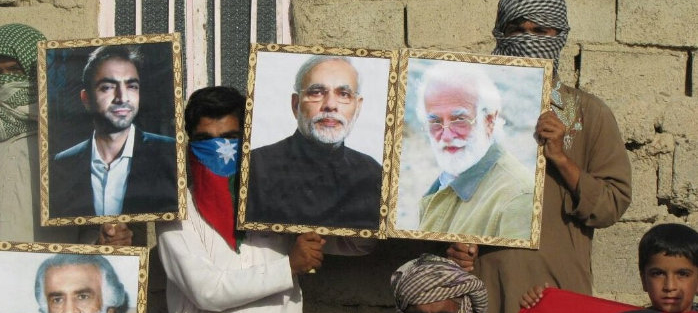 He said the way people from these Pakistani regions "wished me well, gives me great joy".