'People of Ravana's family...' Bageshwar Dham head slams Udhayanidhi Stalin for call to eliminate Sanatan Dhar
Udhayanidhi Stalin, the son of Tamil Nadu Chief Minister MK Stalin, remained steadfast on Monday regarding his controversial remarks calling for the eradication of Sanatan Dharma, asserting that he had not made any incorrect statements. He maintained that those who accused him of inciting genocide were misinterpreting his words.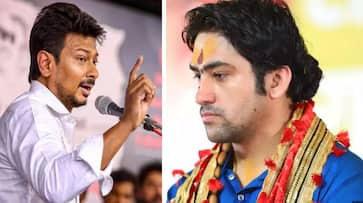 Tamil Nadu Chief Minister MK Stalin's son and state minister Udhayanidhi Stalin, who kicked up a storm over his remarks that Sanatan Dharma should be eradicated and not just opposed, on Monday reiterated that he had not said anything wrong and that those accusing him of inciting genocide are just twisting his remarks.
Udhayanidhi Stalin reiterated his stance, stating, "I want to clarify that I only criticized Sanatana Dharma and called for its abolition. I will continue to express this view. Some are unfairly accusing me of promoting genocide, while others are suggesting that Dravidam should be abolished. Does that mean DMK supporters should be eliminated? When PM Modi speaks of a 'Congress Mukt Bharat,' does that imply violence against Congress members?"
He went on to explain the fundamental differences between Sanatana Dharma and the Dravida model, emphasizing that the former resists change and upholds permanence, while the latter advocates equality and transformation. Udhayanidhi accused the BJP of spreading fake news and affirmed his readiness to face any legal consequences. He also suggested that the BJP was attempting to divert attention from the INDIA Alliance's influence, asserting that the DMK's policy is "One clan, one God."
Udhayanidhi's remarks had already prompted sharp responses from BJP leaders, who criticized both him and his father, MK Stalin.
'People of Ravana's family'
In a related development, Peethadhishwar Dhirendra Krishna Shastri of Bageshwar Dham expressed anger over Udhayanidhi Stalin's statement about ending Sanatan Dharma. Shastri likened Udhayanidhi to the family of Ravana and accused him of hurting the sentiments of Sanatanis in India. He urged restraint in responding to such statements.
Congress MP endorses Stalin Jr
Adding to the ongoing debate, Congress MP Priyank Kharge voiced support for Udhayanidhi Stalin's call to eradicate Sanatan Dharma. Kharge argued that any religion failing to promote equality and human dignity should not be considered a true religion but rather a "disease."
The BJP slammed remarks by Congress chief Mallikarjun Kharge's son.
'Nation will not forgive...'
Meanwhile, Union Defence Minister Rajnath Singh addressed the issue during a rally in Jaisalmer, condemning the attack on Sanatana Dharma. He questioned the silence of Congress leaders, including Rahul Gandhi, Sonia Gandhi, and Mallikarjun Kharge, on the matter. Singh highlighted the inclusive message of Sanatana Dharma and called for clarification from the DMK leader. He suggested that the INDIA Alliance should apologize, warning that the nation would not forgive their silence.
The controversy surrounding Udhayanidhi's remarks has ignited widespread debates and divergent opinions among political figures, prompting discussions on the boundaries of religious criticism and freedom of expression.
Last Updated Sep 4, 2023, 5:44 PM IST