Asian Games 2023: India protests China's visa denial to Arunachal athletes; Anurag Thakur cancels visit
India protests China's denial of visas and accreditation to Arunachal Pradesh athletes for the Asian Games 2023, asserting its rejection of differential treatment and sovereignty over the region, leading to diplomatic tensions.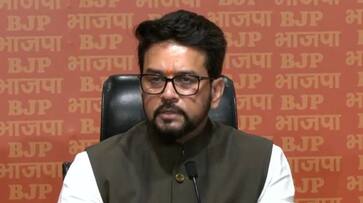 India has formally lodged a protest against China for what it perceives as "deliberate and selective obstruction of sportspersons." This action comes in response to Beijing denying visas and accreditation to athletes hailing from Arunachal Pradesh, a region within India's borders. Union Minister Anurag Thakur has decided to cancel his planned visit to China in light of this development, as announced by the Indian government.
"Government of India has learnt Chinese authorities have, in a targeted and pre-meditated manner, discriminated against some Indian sportspersons from Arunachal Pradesh by denying them accreditation and entry to the 19th Asian Games in Hangzhou, China," the government said on Friday.
"In line with our long-standing and consistent position, India firmly rejects differential treatment of Indian citizens on basis of domicile or ethnicity. Arunachal Pradesh was, is and will always remain an integral and inalienable part of India," External Affairs Ministry spokesperson Arindam Bagchi added.
The Indian government has raised a formal protest both in New Delhi and Beijing, condemning China's actions as a "deliberate and selective obstruction" of Indian athletes. These actions are seen as a violation of the spirit of the Asian Games and the rules governing their conduct.
India "reserves the right to take suitable measures to safeguard (its) interests", Bagchi added.
China has long claimed Arunachal Pradesh, referring to it as "South Tibet," and has included the region in its territory on a new "standard" map released last month. This move was met with international criticism.
India's External Affairs Minister, S Jaishankar, has firmly rejected China's territorial claims, emphasizing that the government is resolute in its stance on Arunachal Pradesh as an integral part of India. He described China's claims as "absurd" and noted that such actions do not change the reality of India's territorial boundaries.
China has previously defended its claims, asserting that its actions regarding the disputed territories are in accordance with its laws and sovereignty.
This incident adds to the ongoing diplomatic tensions between India and China over border disputes and territorial claims, further complicating the relationship between the two neighboring countries.
Last Updated Sep 22, 2023, 2:57 PM IST