Armed Forces Flag Day: PM Modi salutes indomitable courage of Indian forces as nation celebrates
The Armed Forces Flag Day or the Flag Day of India is a day dedicated to India towards collection of funds from people of the country for the welfare of the Indian Armed Forces personnel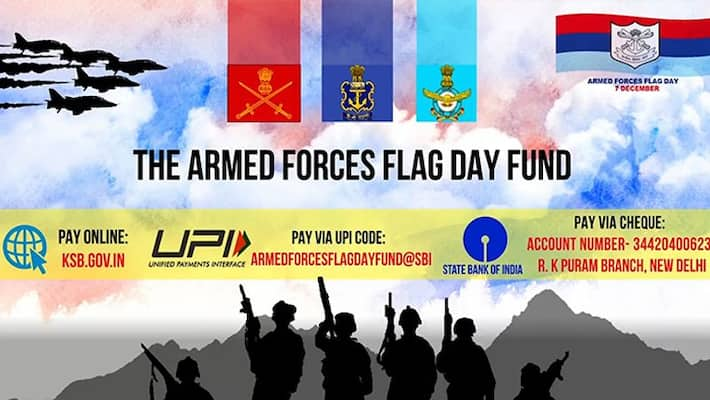 Bengaluru: Saluting our real heroes, comrades' in-arms, the Indian Armed Forces Flag Day 2019 is being celebrated across the nation on Saturday (December 7).
Also referred to as the Flag Day of India, the event is dedicated to the welfare of personnel of Indian forces which includes Indian Army, Indian Air Force (IAF) and Indian Navy.
The day was first observed on December 7, 1949, when the then government attempted to rope in the common people to contribute for the welfare of the defence personnel. On this day, it is important to recall the history and significance of the Armed Forces Flag Day.
The Flag Day observance was widely observed across the nation, with the then Prime Minister Jawaharlal Nehru crediting the campaign to have significantly lifted the armed forces' morale.
Wishes poured in on the occasion of Armed Forces Flag Day as Prime Minister Narendra Modi and defence minister Rajnath Singh took to Twitter to hail the invincible courage of Indian forces.
"
"On Armed Forces Flag Day we salute the indomitable courage of our forces and their families. I also urge you to contribute towards the welfare of our forces," PM Modi tweeted.
"Today the Nation is observing the Armed Forces Flag Day to honor India's bravehearts who sacrificed their lives while serving the country. We should support their families and do everything possible for their well-being and also for the welfare of India's Ex-Servicemen," Singh tweeted.
"You may contribute to Armed Forces Flag Day Fund through online transaction or by writing a cheque. Contributions to Armed Forces Flag Day Fund are exempted from Income Tax.
"Let us express our gratitude to Armed Forces who have fought for the honour of this country," Singh added.
Rajya Sabha MP Rajeev Chandrasekhar sent out a message for the Armed Forces Flag Day and urged the citizens to contribute generously to "the welfare of bravehearts, veterans and their families".
"On #ArmedForcesFlagDay today, show your support to the men & women of our #ArmedForces  who serve & protect the Nation. Contribute generously to the welfare of Bravehearts, Veterans & their families. #JaiHind!," he tweeted.
Let's make this Flag Day a memorable one for the men in uniform by appreciating their sacrifice and gallant efforts.
Last Updated Dec 7, 2019, 1:05 PM IST