Amritsar: Candlelight march held in protest of minor girl's rape
A candlelight march was held in Amritsar on Tuesday night demanding action against school management in a case where a class 2 student was raped by a class 10 boy in Amritsar's Beas village.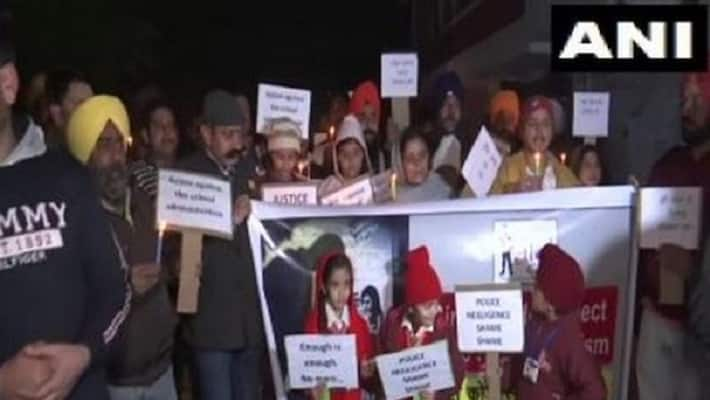 Amritsar: A candlelight march was organised in Amritsar on Tuesday demanding action against the school in Beas where an eight-year-old girl student was allegedly raped by a class 10 student last week.
Many people, including children and women, took part in the march. The demonstrators were seen carrying placards which read - Justice is a must - Action against the school administration -- Enough is enough. No More and -- "Girls are not objects, Stop rape terrorism". The demonstrators were heard shouting slogans - "School prashashan murdabad" and "We want justice."
"What happened with the girl (victim) was wrong. If girls will not be safe in schools, where else they will be. That is why we are carrying out this candle march," a demonstrator said.
Another demonstrator accused the police of negligence and alleged that no action was taken against the school administration. According to sources, the incident happened last Friday within the school premises. Parents of the girl brought the matter to the knowledge of the police but it took over ten hours to register an FIR.
As per reports, the parents of the victim were informed by the school that she was crying. It emerged that she was allegedly raped by a class 10 student of the same school.
This was the second protest in two days, as protesters staged a demonstration on Monday against the management of the private school in Beas, 40 km from Amritsar, condemning the alleged rape of a Class 2 girl by a student of Class 10, which came to light on Friday.
The protesters demanded a criminal case to be filed against the authorities as they sat on a dharna outside the school on National Highway-1 that connects Amritsar with Delhi, leading to a traffic jam. Police had diverted traffic through link roads in the area.
The police have detained the accused and are questioning him.
Beas town also observed a shutdown on Monday to express solidarity with the protesters against the school authorities for their failure to prevent the crime.
With ANI Inputs 
Last Updated Dec 18, 2019, 8:41 AM IST