Air Force honours corona fighters in Kolkata, faces hurdles from state administration
Corona warriors were honoured for their relentless effort in the wake of the coronavirus pandemic in Kolkata on Sunday. IAF choppers showered flower petals at two hospitals. However, this impeccable gesture allegedly faced obstacles from the state administration.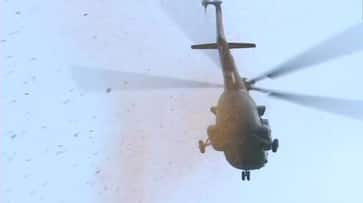 Kolkata: On Sunday, like several other COVID-19 hospitals in the country, the Indian Air Force honoured corona warriors by showering flowers from the sky at two hospitals in Kolkata. However, this impeccable gesture of the IAF faced obstacles from the West Bengal state administration before they expressed gratitude to the medical professionals and other frontline workers. 
Eyewitnesses said, an Air Force chopper arrived at COVID-19 designated hospital in Rajarhat at 10:02 am on Sunday. The chopper first circled the hospital four times, then the petals of marigold flowers were showered on the frontline workers. 
Another helicopter reached in aerial space above Alipore Command Hospital at 10:15 am. This helicopter like the other also circled there first, and then showered petals.
The doctors and nurses of the city were overwhelmed by celebratory gestures from the Air Force. However, the state government was involved in a shadow war with the Centre over this initiative of the Air Force as alleged by a BJP leader. 
On Saturday, the Air Force issued a list of hospitals with names in cities across India, where they intended shower flowers and fly past expressing gratitude and solidarity with frontline workers. 
The list had names of two hospitals in Kolkata - Beleghata ID Hospital and Chittaranjan Cancer Hospital. Reportedly, the IAF had written to the state administration seeking permission for the same, but hadn't received any response till Saturday night. 
BJP leader Arjun Singh criticised the state administration on twitter and wrote, "As per a release by the IAF, they intended helicopter fly-past showering flower petals on Beliaghata ID Hospital,main institute tackling #COVID__19 in WB. But @MamataOfficial has yet not cleared it. To oppose center now you don't want #CoronaWarriors celebrated?"  
On Sunday, instead of Beleghata ID and Chittaranjan Hospital, flowers were showered at Alipore Command and at a private hospital in Rajarhat. It is unclear whether the state administration eventually allowed the Air Force to shower flowers or why the defence force suddenly changed the predetermined hospitals. 
Last Updated May 4, 2020, 10:10 AM IST