4 important details you need to know about the Chandigarh stalking case
The accused in this Chandigarh stalking are law students
The victim Varnika had stated in an FB post "lucky, because I'm not lying raped and murdered in a ditch somewhere"
Chandigarh police, meanwhile, have rejected the allegation that there is pressure on them from the higher ups to hush the case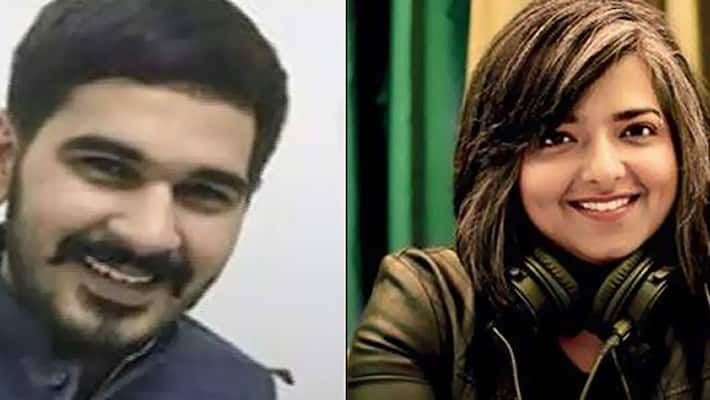 Haryana BJP chief Subhash Barala's son Vikas (23) and Ashish Kumar (27) were earlier arrested for allegedly stalking the woman. The woman in her complaint on Friday stated that the duo had been chasing her for over a stretch of five kilometres in Chandigarh.
The charges they were booked under:
29-year-old Varnika Kundu, the victim, stated in her complaint that there was allegedly an attempt to kidnap her by Vikas Barala and his friend Ashish Kumar. The charges in the FIR — Section 354(d) on stalking and Section 341 on wrongful restraint — are both bailable.  Both the accused were arrested and released on bail within a few hours on August 5. On Monday, SSP Eish Singhal confirmed that police were yet to include charges related to "bid to kidnap" in the FIR.
Both the accused were released later on bail as they were booked under bailable sections of the IPC and the Motor Vehicles Act.
What do Chandigarh police have to say?
Firstly, Chandigarh administration confessed that on the day the crime took place, the CCTV cameras on that stretch were not functioning. They had been non operational since August 1 and footage of the area cannot be retrieved.
Later on the DGP said they were in possession of the CCTV footage along the route and they have been able to track the day of the crime. They said the source could be from private cameras and police scanners.
The police have also warned that the case is turning out to be a media trial and that is something they should steer clear of.
What are both the families saying?
In the case of Vikas Barala's dad, Subhash Barala, the opposition has demanding that he resign, however, the Haryana BJP chief's supporters say it is his son's matter and he shouldn't have to face consequences for that.
Kundu's father Virender Kundu, an IAS officer, wrote a Facebook post to make the family's stand on the matter clear. In his post, he said, "We promise all the people and the groups supporting us that WE SHALL NOT, EVER, BACK OUT OR STAND DOWN, irrespective of hardships or pressures."
Read Varnika's post :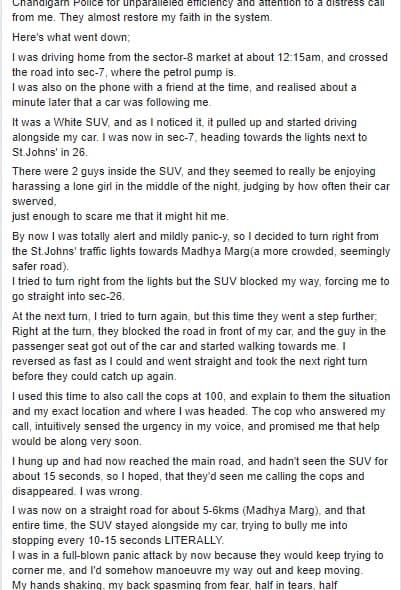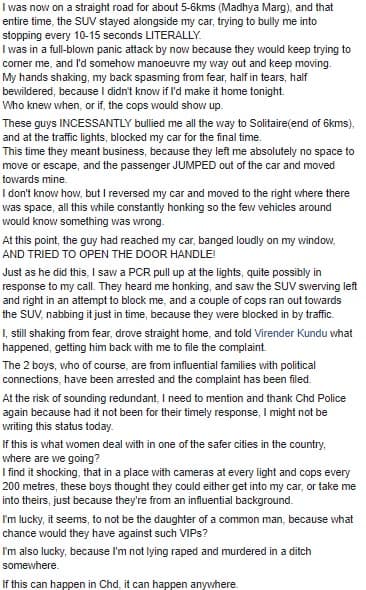 Trolls and victim shaming
As in the Nirbhaya case, here too fingers were pointed at Varnika's lifestyle. Barala's deputy Ramveer Bhatti questioned why Kundu was "allowed to stay out late". "Parents must take care of their children... they shouldn't allow them to roam at night. Children should come home on time, why stay out at night?" Bhatti said.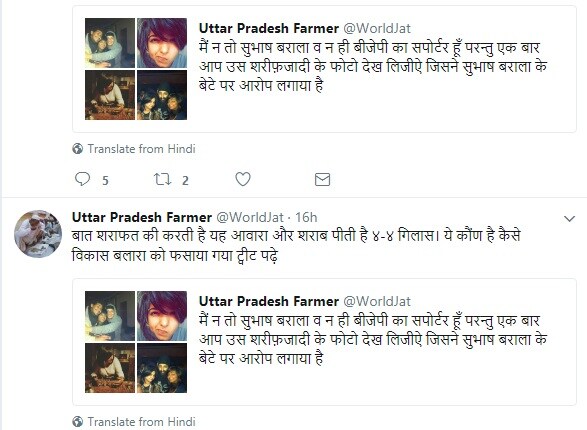 Prashant P Umrao, whose verified Twitter account bio says he is a Supreme Court advocate, tweeted, "So called victim daughter of IAS from Chandigarh with Vikas Barala. This story is as true as like Jasleen Kaur of Delhi & of Rohtak Sisters", along with a photo of Varnika with two of her friends.
Varnika said that the men in the picture are not the accused but two of her friends. People began blaming her saying she already knew Vikas Barala from before. The same tweet was seen on Shaina NC's twitter page and she later took it down saying her account was hacked.
Last Updated Mar 31, 2018, 6:38 PM IST